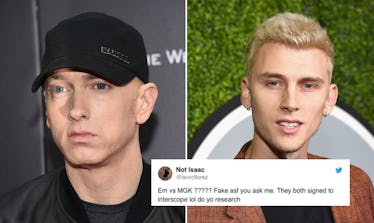 Fans Think Eminem & Machine Gun Kelly Are Faking Their Feud For A Convincing Reason
Michael Loccisano/Michael Kovac/Getty Images Entertainment/Getty Images
If you've been keeping up with recent rap news, then you'll know that Eminem and Machine Gun Kelly are not BFF's. They're not even just F's, if I'm being blunt about it, because they've made it pretty clear that they are not fans of one another. Both rappers have diss tracks aimed at the other, mocking them for one thing or another, and Eminem recently spoke in a detailed interview about all of the reasons why he doesn't like Machine Gun Kelly. Basically, things don't look all that pretty for these two rappers. But now, there's an Eminem and Machine Gun Kelly fan theory that might just convince you that their beef is 100%, totally staged. While it might seem a little hard to believe at first, you may warm up to the idea after you're done reading this. Trust.
I'm going to try and quickly go through the timeline of their feud, just so that you're fully ~in the know~ before providing you with this fancy new conspiracy theory.
On Aug. 30th, Eminem dropped his most recent album, Kamikaze, and on it was the song "Not Alike," a diss track geared toward Machine Gun Kelly. The lyrics suggest that it was directed at MGK's comments about Eminem's daughter, Hailie, that he tweeted back in 2012, reportedly saying that the 16-year-old was "hot as f*ck."
Days later, Machine Gun Kelly fired back with "Rap Devil," a diss track of his own, that mocks Eminem's single "Rap God," claiming that Eminem contacted Diddy to hinder Kelly's rap career.
You still with me? Good.
On Sept. 12, in an interview with Sway Calloway, Eminem opened up about the real reasons behind his feud with Machine Gun Kelly, telling Calloway that he wasn't aware that MGK said anything about his daughter until a year and a half later, and that the lewd comment wasn't why he dissed Kelly in the first place. In part, he told Sway:
The reason that I dissed him is because he got on — first what he said 'I'm the greatest rapper alive since my favorite rapper banned me from Shade 45' or whatever he said, right? Like I'm trying to hinder his career. I don't give a f*ck about your career. You think I actually f*cking think about you? You know how many f*cking rappers are better than you? You're not even in the f*cking conversation.
Eminem also added that he "never made a f*ckin' call to Diddy" to try to mess with Kelly's career.
Then, of course, we were introduced to the latest fuel to the fire: Machine Gun Kelly being reportedly booed by the crowd at a concert while singing "Rap Devil." But other fans argue that the video was doctored, and there's a video of Machine Gun Kelly performing the song without the crowd booing at all.
I know. It's a lot. And guess what? There's more.
Fans on Twitter are now becoming full-on feud detectives, connecting some interesting dots, and are now speculating that Eminem and Machine Gun Kelly's feud is merely a publicity stunt, noting that the two rappers are both signed to the same record label, Interscope Records, and that they both used the same producer for each of their diss tracks. Elite Daily reached out to Eminem and MGK's teams for comment on the speculation, but did not hear back by the time of publication.
Check out Twitter's conspiracy theory below:
Oh, snap! I mean, this theory does sound enticing, but I can't say I'm entirely sold.
One Twitter user even pointed out that MGK's "Rap Devil" was uploaded HALF A YEAR AGO (???), but was set to private until Sept. 8, meaning that either their entire feud is staged, or MGK has been sitting on this song for quite some time, waiting for Eminem to start beef with him:
I don't know why, but I'm having such a hard time believing that Eminem would voluntarily put himself in the middle of an ordeal like this. Considering he prefers to keep his personal life out of the spotlight, I can't imagine him signing on to staging a feud with Machine Gun Kelly.
But hey, the world has seen many more surprising things, so I'm willing to keep my conspiracy theory options open.