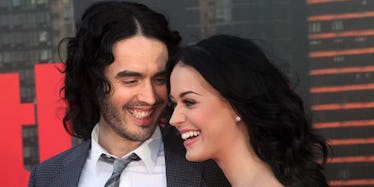 Russell Brand Reveals The Reason He And Katy Perry Split In Emotional Interview
REX/Shutterstock
According to Russell Brand, the pressure of being famous is the reason he and Katy Perry couldn't make their marriage work.
Which is weird, because I kind of always assumed they couldn't make their marriage work because it involved being married to Russell Brand. I guess that's my bad.
The 41-year-old English comedian opened up about the relationship on a new show called "In Conversation With..." hosted by comedian John Bishop, on the UK network W.
While talking to John, Russell seemed to blame his breakup with Katy on the fact that she was too busy for him.
He reportedly said,
Katy was obviously very, very occupied and busy. I was occupied and busy but not to the same degree. The marriage didn't last for a very long time and I think that is due to the undulating nature of fame, living in those conditions.
While that kind of sounds like Russell is putting the divorce on Katy, he did go on to say he still felt "very warm" toward his ex-wife.
He said,
I have come away from that experience and I still feel very warm towards her. When I hear about her or see her, I think 'Ah, there's that person, that person in the world.'
So sweet! I'm sure Katy is honored and touched to be thought of as "that person in the world" by her ex-husband.
Russell and Katy first began dating in 2009 after meeting at the MTV Video Music Awards, and got engaged the same year.
Then two years later, in 2011, Russell filed for divorce.
Since then, Katy has publicly dated John Mayer, Diplo and Orlando Bloom — the last of whom she just ended things with last month.
And John Mayer, who dated Katy briefly back in 2012, recently revealed his new song, "Still Feel Like Your Man" is about a certain pop singer.
Meanwhile, Russell Brand recently became a father with his girlfriend Laura Gallacher.
Hopefully fame doesn't get in the way of this one.
Citations: Daily Mail