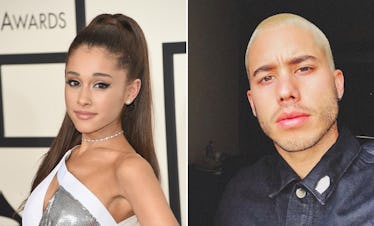 Here's What We Know About Ariana Grande & Ricky Alvarez's Relationship After Their Split
Jason Merritt/TERM/Getty Images Entertainment/Getty Images/Instagram/Ricky Alvarez
If you've somehow missed Ariana Grande's newest track, "Thank U, Next," then you need to do yourself a favor and go give it a listen. It's a great song in itself, but it's the name-dropping that is just totally unmatched. The song, which dropped on Nov. 5, has lyrics that are chock-filled with Grande's past boyfriends (and, of course, her ex-fiancé, Pete Davidson). But many fans are wondering about one ex in particular: Ricky Alvarez. When did they date? Where is he now? And, most importantly, are Ariana Grande and Ricky Alvarez still friends? While there's no definitive proof that these two are besties, it seems like they are definitely still on good terms.
So, let's first start off with the basics, AKA who this Ricky Alvarez is, exactly. He was a backup dancer for Grande, and back in 2015, the pair dated for about a year before calling it quits. While you may not remember him by name, you'll definitely remember when he was captured on video with Grande casually licking donuts (that weren't theirs) at a donut shop and kissing:
What a time to be alive.
So now that you have that refresher on Alvarez, let me gift you with some of Grande's lyrics to "Thank U, Next" that refer to him. The opening lyrics to Grande's song go,
Thought I'd end up with Sean / But he wasn't a match / Wrote some songs about Ricky / Now I listen and laugh / Even almost got married / And for Pete, I'm so thankful / Wish I could say 'thank you' to Malcolm / 'Cause he was an angel.
Do you see that, you guys? "Wrote some songs about Ricky, now I listen and laugh"? Man, Ricky got the short end of the stick for SURE, and even Grande admits that Alvarez got "the worst line," taking to her Instagram Story to re-share the video Alvarez posted about his line, writing, "Hahahahahahah, I'm sorry you got the worst line @rickyrozay it was meant v lovingly."
Not even arguing this one, because Alvarez's line was definitely *not* the softest blow.
But if you give that screenshot another glance, you'll see that Grande tagged Alvarez in her Story, meaning that she must still be somewhat cool with him. And guess what? In Alvarez's Instagram Story post, he tagged Grande, which also confirms that they are seemingly on pretty good terms.
After posting his video, Alvarez shared a note for Grande on his Instagram Story that read, "nothing but gratitude. thank u, next. (those songs are fire tho... you're welcome)," and tagged Grande's username:
From the looks of it, it seems that, while these two are probably not BFF's, they clearly have some level of friendship if they're happy to tag each other playfully on social media.
And a bit about the song "Thank U, Next": Grande has made it very clear that the song is NOT meant to "drag" or "shade" her exes, but rather the opposite. It's just about "love" and "growth":
Alright, Ariana. We see you. Bravo to somehow turning a broken-off engagement into a bop hit in like .03 seconds flat.
I just don't know how she does it, you guys.