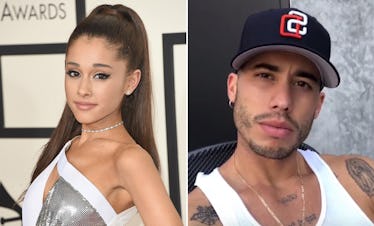 Ricky Alvarez Just Reacted To Ariana Grande Mentioning Him In "Thank U, Next"
Jason Merritt/TERM/Getty Images Entertainment/Getty Images & Instagram/Ricky Alvarez
Ariana Grande's fans are drooling over her latest track "Thank U, Next" which is basically a tribute to all of her past boyfriends. Yes, that means ex-fiancé Pete Davidson, too. The song dropped on Monday, Nov. 5, and starts off with Grande listing her previous boyfriends (Ha). If you guys remember, in 2015 she dated her backup dancer Ricky Alvarez who earned a shoutout in the song. However, even Ariana Grande, who insisted the song wasn't a diss to any of her exes, admits he got "the worst line." Oof. Still, Ricky Alvarez's reaction to Ariana Grande's "Thank U, Next" lyrics about him is so funny and light-hearted, it almost has me thinking she should date him again. Don't @ me!
In the opening lyrics to the song, Grande mentions four past boyfriends including Big Sean, Alvarez, Mac Miller, and Pete Davidson. Like every Grande hit, once the song dropped, fans went wild. Grande's spent the first 24 hours of the song's life regramming funny videos and shoutouts she's received on social media, including a video Alvarez posted of himself listening to the track. At first, he seems intrigued until he hears his line.
The lyrics go like this:
Thought I'd end up with Sean / But he wasn't a match / Wrote some songs about Ricky / Now I listen and laugh / Even almost got married / And for Pete, I'm so thankful / Wish I could say 'thank you' to Malcolm / 'Cause he was an angel.
Just to be clear — Grande says she used to write songs about Ricky... but now when she listens to them... she laughs...
Ouch.
However, she and Alvarez still have a great relationship and are able to poke fun at each other. Grande re-shared his video with the caption, "Hahahahahahah, I'm sorry you got the worst line @rickyrozay it was meant v lovingly."
Grande also tweeted at a concerned fan revealing both Big Sean and Alvarez heard the song before it dropped.
Either way, Alvarez is obviously fine with it. After posting his funny video, he shared a note for Grande that said, "nothing but gratitude. thank u, next. (those songs are fire tho... you're welcome.)"
The rest of the lyrics to "Thank U, Next" echo a similar sentiment. It essentially sounds like Grande is thanking her past boyfriends for teaching her more about herself, love, and relationships in general.
Here are more of the lyrics:
[Pre-Chorus] One taught me love / One taught me patience / And one taught me pain / Now, I'm so amazing / I've loved and I've lost / But that's not what I see / So, look what I got / Look what you taught me / And for that, I say... Thank U, Next
[Verse 2] Spend more time with my friends / I ain't worried 'bout nothin' / Plus, I met someone else / We havin' better discussions / I know they say I move on too fast / But this one gon' last' / Cause her name is Ari / And I'm so good with that (So good with that)
Listen and love below.