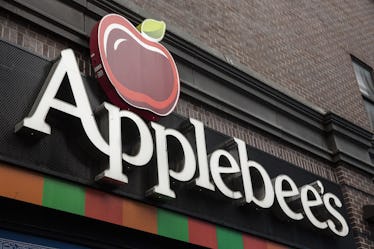 Applebee's Has A New Drink Special For May & It'll Only Cost You $2
Andrew Burton/Getty Images News/Getty Images
Hang on to your wallets, because Applebee's is about to start serving up cold ones for just pennies on the dollar. That's right, this is not a drill. The self-proclaimed Neighborhood Bar and Grill announced on Wednesday, April 25, that it will begin pouring $2 Dos Equis for patrons beginning in May. If you're looking for a reason to kick back and relax without breaking the bank, Applebee's 2 Dollar Dos deal may be the perfect summer drink special for you.
You and your friends can enjoy the two-buck beer bargain all month long at participating Applebee's locations throughout the United States starting on Tuesday, May 1. As a part of its Neighborhood Drink of the Month promotion, the fast-casual restaurant will have two Mexican beers in rotation including the Dos Equis Lager and the Dos Equis Ambar. The more options, the better, right? I certainly think so.
This is all to kickstart Cinco de Mayo celebrations on Saturday, May 5, except you'll be able to enjoy this boozy deal all day, every day for the entire month of May. The cervezas come in a frosty 10-ounce mug, so your drink is almost guaranteed to maintain its chilled temperature while you sip.
I mean, it really doesn't get much cheaper than $2 beers (unless you're taking advantage of Applebee's Dollarita deal). BTW, Applebee's Dollaritas were just extended through Cinco de Mayo. The beloved $1 beverage made its way back to menus at the beginning of April after a five-month hiatus. Applebee's is paying it forward to patrons by offering the limited-time margarita special for an additional five days.
"We brought back the Dollarita on April 1, and it's been such a big hit with our guests that we're keeping it around for Cinco de Mayo when folks have margaritas on their minds," said Patrick Kirk, vice president of beverage innovation at Applebee's in a press release. "We thought our May Neighborhood Drink, the 2 Dollar Dos, would be an excellent compliment to the Dollarita and is a big win for our guests."
Applebee's is no stranger to serving up cheap drink deals. In March, the chain offered these refreshing $2 vodka lemonades, and rolled out $1 Long Island Iced Teas during the 2017 holiday season. It's good to know I've got a friend in Applebee's when it comes to quality drinks at a budget-friendly price. And for that reason, I just want to extend my gratitude to Applebee's for always putting the customer first. The only way this deal could get better is if the "most interesting man in the world" was behind the bar serving up cold ones.
The 2 Dollar Dos deal is valid throughout the month of May, but you should check with your local Applebee's to see when they plan on serving the beer. If you're celebrating Cinco de Mayo (or if you just happen to be dining at an Applebee's in May), order a plate or two of the Verde Beef Nachos or the Spicy Boneless Buffalo Bites to go with your beer or margarita. Nothing says quality time like good food and drinks with friends.
A little something to know before you go: According to Applebees, the Neighborhood Drink of the Month program varies depending on where you live. So before you head out the door to take advantage of the deal, locate your nearest Applebee's and give them a call to make sure they are participating in the promotion.
This goes without saying, but remember to drink and enjoy these super affordable beverages responsibly. Oh, and there's absolutely no shame in calling a ride-sharing service if you need a lift back home.