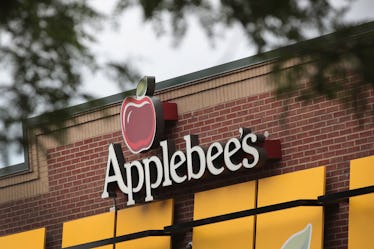 Applebee's Is Releasing A $2 Vodka Lemonade & It's Perfect for Outdoor Sipping
Scott Olson/Getty Images News/Getty Images
I don't know about y'all, but I'm a sucker for a delicious discounted cocktail. While many may be saddened that Applebee's $1 Bahama Mama will be saying its goodbye, never fear because the family-friendly food chain is gearing up to introduce its latest gift to us all. So how long will Applebee's sell $2 vodka lemonades?
Applebee's unveiled their discounted vodka lemonades on March 1, and I, personally, am thrilled. For just $2 you can sip on a delicious and refreshing spiked cocktail, and this isn't your grandma's recipe either. While this particular beverage is a whole dollar pricer than its predecessor the Bahama Mama, it's because this vodka lemonade calls for the top shelf liquor: specifically Absolut vodka. Lucky for all of us fans of a cooling cocktail, you've got until the end of March to sip on this drink, as the cocktail is available all month.
Even better — this drink is available 24/7, so feel free to host a boozy brunch whenever you feel like it. After all, the weekend doesn't have to end until you say it does.
Applebee's gave a bit more description about the March seasonal cocktail on their website.
They wrote,
Temperatures are rising, flowers are blooming and seasons are changing. Spring is in the air which means lemonade season is back in session. Lemonade-with-ABSOLUT-Vodka-in-it-for-only-two-dollars season, that is. That's because Applebee's newest Neighborhood Drink of the Month is a 2 Dollar ABSOLUT Vodka Lemonade. Stop by Applebee's for your very first sip of spring today.
They also took to Instagram to further promote the product. Not like I need to be sold anymore. I'll take two please.
Applebee's is no stranger to #blessing us with discounted, delicious cocktails. Starting in Oct. 2017, Applebee's kicked off their discounted drink tradition with $1 margaritas, as part of their "Neighborhood Appreciation Month." Vice president of beverage innovation at Applebee's, Patrick Kirk, shared an official press relief explaining the company's reasoning behind introducing the margarita special.
He said,
We focus on our food a lot, but 'bar' is in our name, and it is an integral part of what makes Applebee's a great neighborhood destination. Our $1 margaritas in October give us a chance to show our guests a little love, giving them a totally unbeatable offer as a gesture of our sincere appreciation for their patronage.
From there it's history, and other monthly cocktail specials have been making their way to Applebee's ever since.
Forget Christmas, a monthly discounted cocktail is better than any visit from Santa. Plus, judging from Twitter's responses, I'd say everyone's a huge fan of the deal.
In Dec. 2017, the food chain kicked it into high gear by announcing it would be serving $1 Long Island Iced Teas during the month of December. Kirk introduced the beverage to the world through a press release, where the theme of community still rang strong.
He said,
The Dollar drink is back at Applebee's just in time for the holidays, and this time, folks can enjoy a $1 Long Island Iced Tea. The Dollar L.I.T. is kind to your pocket book and a great drink to share with old friends and new ones this holiday season.
Maybe that's the reason why Christmas is such a blur.
So we've got margaritas, Long Island Iced Teas, Bahama Mama's, and vodka lemonades. Can you say #squadgoals?
Before you run to the closest Applebee's near you, be wary that there have been talks about these drinks not necessarily packing the punch you'd be expecting. On Oct. 6, 2017 a video released by an Applebee's employee surfaced on Instagram allegedly showing the recipe for Applebee's $1 margaritas. The employee claimed that the $1 margaritas are made with three gallons of water and five gallons margarita mix.
However, an Applebee's representative addressed the video in a statement to Delish, by claiming the bartender didn't follow the "proper preparation instructions."
Either way, you can catch me porch-side sipping a vodka lemonade and enjoying that blooming spring weather.
And remember everyone, always drink responsibly.