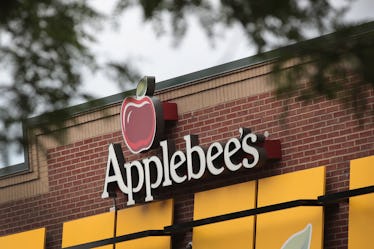 Applebee's Is Selling $1 Long Island Iced Teas & Here's When You Can Buy One
Scott Olson/Getty Images News/Getty Images
Well, it's officially December, which means the holidays are nearly upon us. I don't know about you, but I'm really excited. It's finally time to deck the halls, blast your favorite Christmas tunes, bake an absurd amount of cookies, and of course, treat yourself to a boozy beverage here and there to celebrate the festivities. Believe it or not, Applebee's is making is super easy to unwind throughout the season by selling a cocktail that only costs a dollar. That's right: Applebee's is selling $1 Long Island Iced Teas right now... so, cheers.
Before you plan a trip to your local Applebee's and spend your bills on dollar cocktails (if you're over 21 years old, of course), please remember to drink responsibly. These cocktails contain a lot of liquor, OK?
Now, let's get to the details. Participating Applebee's restaurants will be selling Long Island Iced Teas for a dollar throughout the month of December. Why, you ask? To celebrate the season, duh!
Patrick Kirk, the vice president of beverage innovation at Applebee's, commented on the boozy deal in the company's press release. He said,
The Dollar drink is back at Applebee's just in time for the holidays, and this time, folks can enjoy a $1 Long Island Iced Tea. The Dollar L.I.T. is kind to your pocket book and a great drink to share with old friends and new ones this holiday season.
Yup. I'll cheers to that.
The company's press release urges customers to drink responsibly. As I said before, these drinks are no joke. Apparently, Applebee's Long Island Iced Teas contain tequila, gin, rum, triple sec, and vodka. The boozy concoction is then mixed with sweet and sour mix and a splash of cola.
In case you're wondering if the drink is only available during a happy hour of some sort, don't fret — because it's not. Instead, it's available all day, every day. Applebee's is really feeling the holidays this year.
Of course, Twitter is super thrilled about the news. The moment people started finding out about the drink deal, they expressed their excitement online.
It's safe to say everyone's super stoked about the holiday deal.
This isn't the first time Applebee's is selling cocktails for a dollar, though. Back in October, the restaurant sold margaritas for a dollar — rightfully called "Dollaritas" — which were also available all day, every day. According to a press release, Applebee's introduced the boozy deal to celebrate Applebee's Neighborhood Appreciation Month. TBH, everyone was very appreciative.
Kirk also commented on October's special, and said,
We focus on our food a lot, but 'bar' is in our name, and it is an integral part of what makes Applebee's a great neighborhood destination. Our $1 margaritas in October give us a chance to show our guests a little love, giving them a totally unbeatable offer as a gesture of our sincere appreciation for their patronage.
First margaritas, and then Long Island Iced Teas?! I can't even imagine which boozy bev Applebee's decides to sell for a dollar next. However, I'm excited to find out.
If you're just as intrigued about Applebee's dollar L.I.T. as I am, you can check out their page, applebees.com/dollarteas, after Dec. 1. Or, if you're close to a restaurant, you can take a trip there and check out the Long Island Iced Tea situation. (Remember to bring a designated driver, though.)
So, there you have it. If you get tired of sipping on hot cocoa this season, head to Applebee's and sip on a Long Island Iced Tea. Since they're only a dollar, you'll have plenty of money left to spend on holiday gifts for your family and friends.
Check out the entire Gen Why series and other videos on Facebook and the Bustle app across Apple TV, Roku, and Amazon Fire TV.