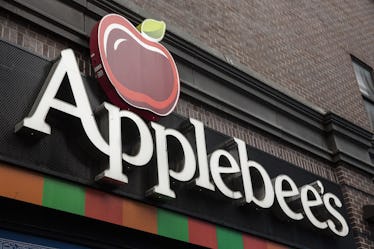 Applebee's Is Selling Margaritas For $1, So Happy Hour Just Got A Lot Cheaper
Andrew Burton/Getty Images News/Getty Images
After all of the bad news we've heard the past couple of weeks, we need something to offset some of the negativity. We can do that by imagining all of the great sales going on at our favorite stores, we can think of all of the cute puppies that need adopting, and we can imagine a place where you can buy delicious margaritas for only a buck. The first two scenarios are great, but nothing tops getting a delicious margarita for only a dollar — and you can only get that amazing deal at Applebee's. If you are wondering just how long Applebee's will be selling dollar margaritas, I've got answers below.
For the month of October only, Applebee's will be offering its customers the opportunity to purchase their delicious margaritas for only a dollar! The restaurant is calling their new bargain drink the "Dollarita," and they are available all day, every single day, for the entire month of October — talk about a halloween treat. This means that happy hour is going to be really affordable this month. But if you are going to enjoy a few Dollaritas, you should definitely consider Ubering home.
According to an official press release about the event, Applebee's introduced the Dollarita in the month of October to celebrate Applebee's Neighborhood Appreciation Month, and boy are we appreciative. The Dollarita is basically a simple margarita that is poured over ice and can only be enjoyed when dining in at participating locations.
Vice president of beverage innovation at Applebee's, Patrick Kirk, shared why he thought this promotion was so important.
We focus on our food a lot, but 'bar' is in our name, and it is an integral part of what makes Applebee's a great neighborhood destination. Our $1 margaritas in October give us a chance to show our guests a little love, giving them a totally unbeatable offer as a gesture of our sincere appreciation for their patronage.
Mr. Kirk and the at Applebee's on behalf of all the margarita lover across the country, thank you. Margarita lovers have taken to Twitter to show just how much they appreciate Applebee's gesture.
"$1 Margarita at @Applebees all month, I'm about to be eating good in the neighborhood"
"*called local Applebees* hello are you participating in the $1 margarita month sir?"
"IS THE VACAVILLE APPLEBEES PARTICIPATING IN $1 MARGARITA MONTH. ASKING FOR A FRIEND"
"While I never would consider Applebees a hot place to grab a margarita, it would be financially stupid to not cash in on $1 margs all month"
"i love me a good margarita. applebees got em for the low, then that's where i need to be at."
"Thank you @Applebees for shining your glorious, wonderful, dollar margarita light on all the non-believers."
"At work thinking about those $1 Margarita's at Applebees all October"
"Whole squad walking out of Applebees like this after the .50 cent margarita Wednesdays"
"**pays for margarita in quarters at Applebees**"
"$1 margarita's? Let me get my ass to applebees."
I'm honestly about to get my ass to Applebee's, too. But honestly, think of the food possibilities if you are only spending a dollar on margs? You can order a 2 for $20, which includes two entrees and one appetizer for only 20 bucks. That's one hell of a deal if you ask me.
You can also opt for just appetizers and buy 2 for $9.69 or 3 for $12.79. Think of all the mozzarella sticks you can enjoy.
Geez, I love October.
Check out the entire Gen Why series and other videos on Facebook and the Bustle app across Apple TV, Roku, and Amazon Fire TV.