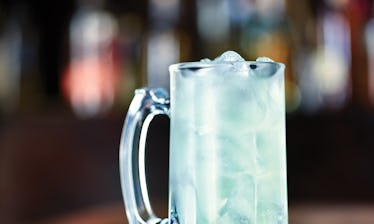 Applebee's $1 Margarita Will Be Available Longer Than You Thought, So Cheers
Applebee's
Just when you thought you'd have to say goodbye to Applebee's Dollarita deal at the end of April, the restaurant broke the good news on Wednesday, April 24 that they will keep the tequila-infused drink around for a little bit longer. While I don't know when the beloved drink will return again, I can tell you that the Applebee's Dollarita special will be extended through May. This means you don't have much time left to take advantage of the $1 drink deal, so it might be time to actually follow through on those afterwork plans you and your coworkers keep talking about.
Back by popular demand, Applebee's patrons will be able to enjoy the cocktail through Saturday, May 5 to help celebrate Cinco de Mayo, according to a press release. The fan-favorite libation is a mix of tequila and margarita mix, and is served up in an ice cold 10-ounce mug. The Dollarita sadly left the menu in October 2017, but Applebee's brought it back from the graveyard for the month of April 2018. Now, they're giving us a few more days with the popular $1 refreshment. Yes, you read that right. In today's world, there aren't many things you can buy for just a $1. So thanks, Applebee's, because I know my bank account is giddy over the price of this budget-friendly beverage.
"We brought back the Dollarita on April 1, and it's been such a big hit with our guests that we're keeping it around for Cinco de Mayo when folks have margaritas on their minds," said Patrick Kirk, vice president of beverage innovation at Applebee's in a press release. "We thought our May Neighborhood Drink, the 2 Dollar Dos, would be an excellent compliment to the Dollarita and is a big win for our guests."
In addition to extending the Dollarita deal, the "neighborhood bar and grill" (as the restaurant is more affectionately known as) will also offer 2 Dollar Dos Equis for the entire month of May. Yep, that's right. Applebee's has you in mind by serving up not one, but two affordable drinks this May. So if you can't make it to your local Applebee's until after May 5, don't worry, because Applebee's still has your back with this $2 beer deal that's available all month long.
Keep in mind that it doesn't have to be happy hour to score big savings on these drink specials. In true Applebee's customer-friendly fashion, the drink deals are available all day, every day, through their respective end dates, so long as the participating restaurant is open for business. Now that's my kind of neighborhood bar.
Applebee's is known for pouring up inexpensive boozy deals in the past like these $2 vodka lemonades and $1 Long Island Iced Teas, so it comes as no surprise that they'd serve up another round of liquid specials this May. TBH, Tax Day wasn't that long ago, and I'm still waiting for my refund to drop — so I'll take anything to go easy on my wallet for the time being. Plus, I'm a sucker for a good deal, especially when it comes to food and drinks.
The Dollarita and 2 Dollar Dos specials are only good at participating locations around the United States. Before you head out to enjoy, locate your closest Applebee's and give them a ring to make sure they are offering this deal. While you're there, order some grub to share amongst the table, like the Verde Beef Nachos or the Spicy Boneless Buffalo Bites. Both pair perfectly with the beverages. As always, be sure to enjoy these drinks responsibly. Cheers!