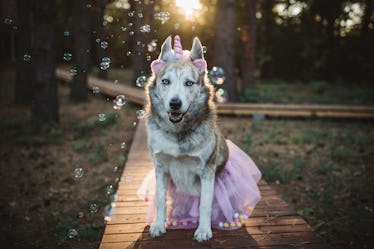 Amazon Pets' Halloween Costumes Are Something To Bark About
svetikd/E+/Getty Images
Getting your pup into the spirit of Halloween can be pretty simple. They always want to snuggle with you when you're watching Hocus Pocus, and don't mind going for a walk to see your neighborhood's spooky decor. As Oct. 31 creeps closer, you probably want to take things to the next level and score your adorable pup one of Amazon Pets' 2020 Halloween costumes.
Not to bark about it, but they'd look so cute dressed up like a taco, pizza slice, or superhero. You can picture them strutting around your home, stopping at every mirror to look at themselves and think, "I clean up real good." Although they aren't always the best at posing for pictures, you're surely going to want to have a photoshoot to commemorate their sweet outfit. You may set up an Instagram backdrop in your home and ask them to sit or stay while you snap pics from the other side of the camera, and then give them some treats for being such a good boy.
Now, before you can have a photoshoot, you'll need to have a costume for your pet picked out and purchased. When shopping, you'll want to think about what would be most comfortable for them as well as cute. Amazon Pets has tons of options for you to choose from. Add a paw-fect look to your cart RN.