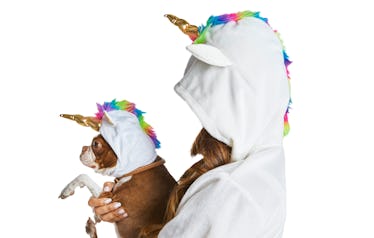 Petco's "Bootique" Has Costumes & Treats That Are Way Too Cute To Spook
It's never too early to start thinking about your PAWW-some Halloween plans. A cozy night at home with your dog or cat may be exactly what you have in mind, and Petco's "Bootique" collection for Halloween 2020 has everything to make your October undeniably purr-fect. From pet costumes to spooktacular toys, you can find something special for every one of your furry friends at home. There are even matching costumes so you and your pup can look extra cute in your boo-tiful selfies.
To get in the Halloween spirit, dress your pup up in a cozy, witchy sweater. Then, bake some tasty ghost cookies for yourself, and give your pup some witch's brew cauldron cookies ($9, Petco) to enjoy, too. Finally, get comfy while watching your favorite Halloween movies like Hocus Pocus and The Nightmare Before Christmas on the couch.
Just because you're spending the holiday at home doesn't mean you can't still dress up. There are a bunch of super cute and hilarious pet costumes to choose from in Petco's "Bootique." Get your cat a lion's mane or your pup a hot diggity dog costume. Even your guinea pig can look fab as a unicorn. If you need a little inspiration, check out these "Bootique" items that are sure to get you pumped for Oct. 31.