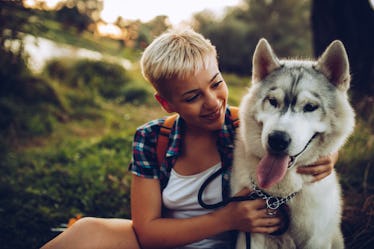 Snap These Paw-fect Pics On Your Fall Hike With Your Pup For Smiles & Sweetness
matrixnis/E+/Getty Images
Fall hikes are upon us, and your dog's sitting at the door ready to go. Once they see your sneakers disappear from the doormat and the car keys jingling in your hand, they instantly know what's up. For both of your sakes, don't waste another second hopping in the car because you'll want to catch the foliage when it's at its most vibrant and grab these pictures to take on your fall hike with your dog.
It'll likely take some time to grab one of these sweet selfies. Your pup may get distracted by other dogs walking by with their hoomans, or you may spot a better view to have in the background. Trying to get your hiking bud to look at the camera by coaching them with treats will be part of the fun, though. It'll add to the other challenges you've conquered during your adventure, such as steep hills or a granola bar wrapper that just wouldn't tear.
When you're looking back on the photos, you'll be reminded of the sweet or silly moment that came with it. The best photos come with a story, and a pup like yours is likely always ready to rush outside and make some new mems. Take one of these eight pics on your fall hike with your dog, and you'll leave the experience with stories, smiles, and selfies.