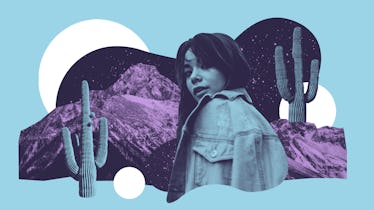 102 National & U.S State Parks To Visit For A Socially Distanced Summer Escape
Even the most highly-anticipated vacation plans can change unexpectedly, and as we've all realized, this includes your entire 2020 summer itinerary. The ongoing coronavirus pandemic may have pressed pause on all of your pre-booked vacations, but that doesn't mean there can't be a new, exciting, and completely safe adventure on your horizon. The Centers for Disease Control and Prevention (CDC) warns traveling does increase the likelihood of contracting and spreading the coronavirus, but it is still possible to plan, book, and enjoy an end-of-season getaway, even if that means trading your beachfront cabana for a tent-for-two in the great outdoors.
Have you been thinking about packing up the car (or safely renting an RV) for an in-state road trip to check out all that nature has to offer? Well, what about planning a road trip to relax and unwind in one of the 62 national parks or 10,234 state parks all across the U.S.? Whether you're passionate about camping, stargazing, paddle-boarding, photographing nature, or just eager to get outside with your person, Elite Daily put together a list of 102 national and state parks all across the U.S., including Puerto Rico. Now, no matter where you are, consider your summer saved.
Depending on your location, many of the suggestions below may not be applicable to you due to distance or the need to fly to get there. Places that are in your state, local to you, or in a bordering state you can access safely and responsibly via car, however, remain travel options for many. Dr. Marlyn Delva, Ed.D., dean of students at the School of General Studies and Faculty at Mailman School of Public Health at Columbia University, says, "Taking a moment to escape all the noise in life and take in the beauty of our parks is rejuvenating. It must be done with all the precautions and safety measures in place, but as long as someone is able to physically distance and wear protective face gear when possible, enjoying the natural beauty of our earth is good for the soul." You also need to be conscious of your physical imprint when traveling. Exposing locals in national or state park towns increases the risk of overwhelming local hospitals (should you or someone you're with get sick), in addition to exposing the people who live there year round.
You should continue to check in on travel guidelines — for your current location, your end destination, and any pit stops you plan to make in between — via the CDC website and the official state websites relevant to your trip. Stay up to date on the official National Parks Service and state parks websites on operating hours, park and visitor restrictions, and cleaning practices for camping and cabin sites, as these are subject to change at a moment's notice. Keep in mind that many states across the nation have instated mandatory quarantine policies when traveling between states, so you'll need to factor extra time into each step of your travel plans.
By packing your car with your mask, sanitizer, antibacterial spray, and more essentials, you can hit the road and feed your wanderlust, riding the season out in the best way possible. So if you're eager for fresh air, #views, and some alone time with Mother Nature, we've got 102 options picked just for you.