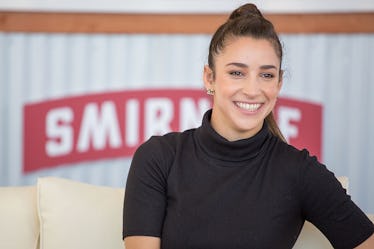 Aly Raisman Revealed The Most Important Part Of Her Self-Care Routine & I'm Inspired
Rick Kern/Getty Images Entertainment/Getty Images
Olympic gold medalist Aly Raisman has gone through the wringer this year: After coming forward about the sexual abuse she endured, and continuing to advocate for other sexual abuse survivors, I can only imagine the last few months have been trying for the athlete-turned-advocate. Through it all, though, Raisman seems to have come out on the other side stronger than ever. And while she plans to keep fighting until justice is served for other survivors like herself, she's learning that being an advocate doesn't necessarily mean always having to put others first, which is why Aly Raisman's self-care routine is heavily focused on taking care of her mental health and putting herself and her needs at the top of her priority list.
Raisman first stepped forward about her abuser, former USA Olympic gymnast physical therapist, Larry Nassar, in November of 2017. The allegations followed those of Raisman's teammate, McKayla Maroney, and sparked a movement that led to over 100 athletes filing against Nassar. In January of 2018, Raisman faced Nassar in court, testified against him, and watched the man who'd harmed her for so many years receive a sentence of 175 years in prison for sexual misconduct, plus an additional 60 years for possession of child pornography. It was a huge victory for Raisman and the other survivors, but as the 24-year-old gymnast told InStyle in a recent interview, "Just because an abuser is in jail, it's not the end, or it doesn't mean justice has been served." And in the last several months, she's made it her mission to continue fighting for justice for her fellow teammates, as well as other survivors of sexual abuse.
Even though Raisman acknowledges the long road ahead of her in that fight for justice, she told InStyle she's beginning to realize her own self-care has to come first.
It's no secret that Raisman's focus has shifted from athleticism to activism, and I can only imagine how balancing both of these passions might not leave much room for her to rest. The athlete's advocacy is incredibly admirable; despite back-to-back interviews and press time, Raisman has always managed to stay humble and focused. But making a change like that is a huge commitment, one that can easily take precedence over something as important as her own self-care routine. Raisman told InStyle,
I was so obsessed with trying to make change and do everything that I could. Now I'm realizing that this is not going to get fixed overnight, so I still have to make time for my family and friends and, of course, myself.
So how does someone as driven and motivated as Raisman put that passion on pause for a little while, and in the midst of trying to make a positive change for others, make a personal commitment to her own mental health?
Aly Raisman told InStyle she's making self-care an important part of each and every one of her days, even if she only has a few minutes to spare.
Once in a while, she told the outlet, Raisman grants herself a well-deserved day off, and to make the most of her downtime, she definitely shows her true athletic colors, as she admitted to InStyle that swimming is actually one of a few ways in which she likes to unwind. When she's not taking a dip or swimming laps, though, Raisman's just like you and me: She reads, cooks, and even watches TV (her favorite thing to watch is documentaries, specifically anything having to do with Princess Diana).
But the most important aspect of self-care for her to focus on, she told the magazine, is anything that takes her mind "off all that has happened," so when she can't take an entire day to herself, the 24-year-old gymnast makes it a point to squeeze self-care into her schedule. Regardless of how hectic the week ahead looks, Raisman told InStyle she regularly attends therapy and practices meditation three times a day, which is beneficial for both her mental and physical health:
Overall, I've been trying to listen to my body more. I put peppermint oil over my eyebrows when I get a headache. And before bed I put lavender oil on my skin to help me relax, then I diffuse another oil in my room and meditate with an app until I fall asleep.
Self-care is essential for everyone, but it's especially great to hear that someone as busy as Raisman can make, and has made, a difference in this world, while still putting her mental health at the top of her priorities list.