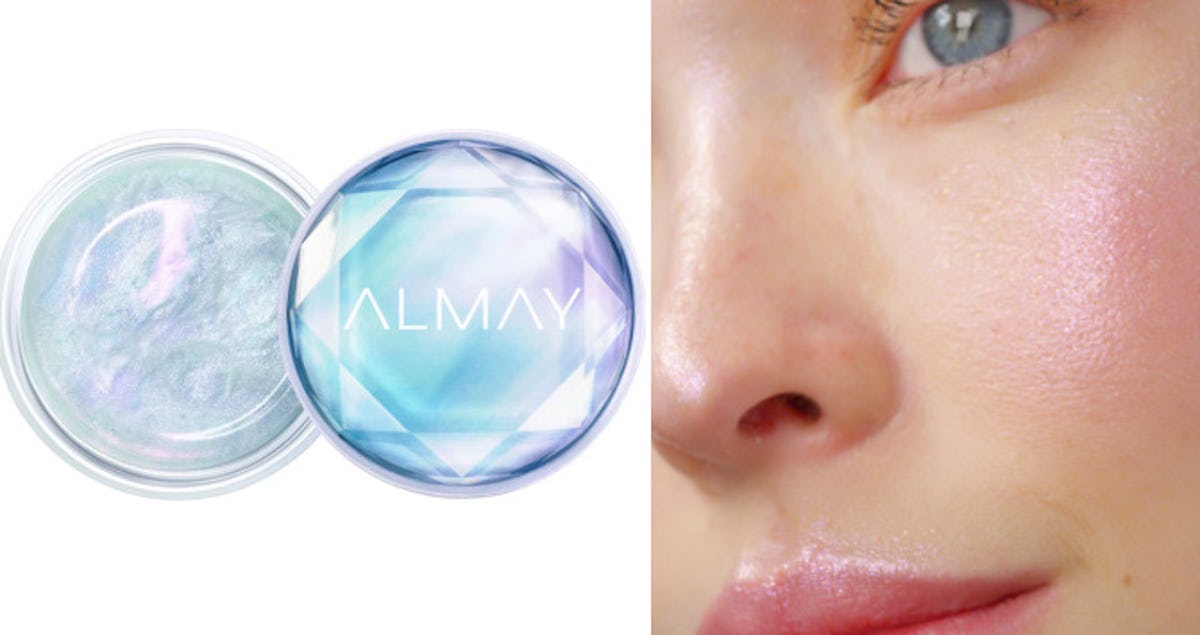 Almay's New Jelly Highlighter Makes You Decide If You're A Unicorn Or A Mermaid, So I'm Screwed
Almay
Highlighters continue to reign supreme — but not the kind you used in school. The highlight has became an almost universal beauty staple, with formulas spanning everything from powder to liquid, but the revolution is nigh. Leave it to a beloved drugstore beauty brand to outdo the rest of 'em, because Almay's Jelly Highlighter Gel is all your favorite trends wrapped up into one beautiful package.
Unicorn lattes, mermaid toast, glitter, millennial pink everything — you can hardly walk a New York City block without running into at least one of these voguish items. Instagram is overrun with all of the above as well, and it's about to get even worse (better?). Almay, a drugstore beauty brand known for sensitive skin-friendly cosmetics, is hopping on the bandwagon and I couldn't be more excited. Almay has created what I think will be a legendary highlighter — it's not a powder (which means it can't crack), it's not a liquid (so it won't spill), and it's not loose glitter (so it won't make a gigantic mess).
So what is it? It's a highlighter jelly.
The jelly comes in a crystal-topped jar (another trend checked off the list), and is filled with 0.58 ounces of wonderfully iridescent goo. The jelly isn't out just yet, but keep reading to take a sneak peak at it and find out when you can take it home all to yourself.
Almay Make Them Jelly Hi-Lite in Unicorn Light
$15, Ulta
This fairy pink hue is called Unicorn Light and I recommend wearing it while drinking a Unicorn Frappuccino, wearing Paris Hilton's Unicorn Mist perfume, and enjoying a slice of this rainbow unicorn cake. Then take this quiz and find out what kind of unicorn you are — I'm a Harry Potter Unicorn because of my "pure heart," and apparently, I'm worshipped by all.
Almay Make Them Jelly Hi-Lite in Mermaid Magic
$15, Ulta
This dreamy blue jelly makes me want to break out into a rendition of "Part Of Your World." To wear this shade, you need to have unicorn hair, be drinking a Starbucks Unicorn Frappuccino (yup, there's one of those too), and eat a slice of mermaid toast. OK, you don't actually have to be doing all of those things but you'd get bonus points for being extra AF if you do.
Almay posted an early photo of what the jelly looks like when applied. It appears to be multi-purpose and can be used on your cheeks, nose, and lips! I bet it works as eyeshadow, too.
As soon as Twitter saw the new glow-givers, users started stanning.
Customers caught wind of these upcoming jelly highlighters and are naturally excited about being able to smear unicorn goo on their faces, as am I. "I'm so pumped to try the new almay jelly highlighter," tweeted one user.
"Looks like I just spotted the one and only almay product i will be buying in my life lmao #makethemjelly looks like a decent Farsali jelly beam highlight dupe to me! according to popsugar they think so to. released february 18th online, march in stores, ulta exclusive?" Another user is going to become an Almay convert because of this jelly!
"Almay Make Them Jelly Hi-Lite Is the Dewiest Drugstore Highlighter," said another excited beauty lover. Bring on the dew!
TrendMood is always in the know about cool up and coming products, so if that account tweeted about it, you know it's something worth checking out.
The Almay Make Them Jelly Hi-Lites aren't for sale quite yet, but mark your digital calendars for Feb. 18 when they'll be available to order on the Ulta website for $15 each, and to purchase at Ulta stores Mar. 8. Even better than the price (and everything else I've mentioned so far), is the fact that the highlighting jellies are fragrance-free and hypoallergenic. Bless up.
True unicorn/mermaid hybrids will snag both, and mix the colors together.