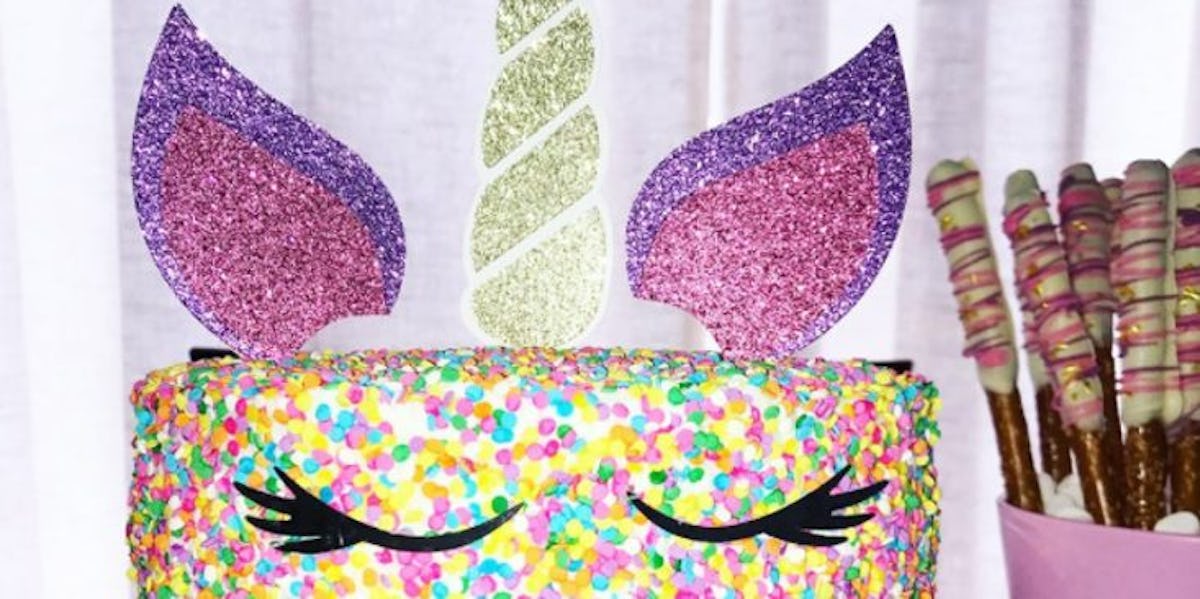 This Glittery, Confetti-Covered Unicorn Cake Is What Birthday Dreams Are Made Of
Instagram / @theglassoven
Unicorn food is a rainbow-hued corner carved out of the food space, and it just keeps getting better. There are pizzas, frappuccinos, and — best of all — birthday cakes ready to satisfy every magical craving you've ever had. And, NBD, but Instagram user @theglassoven just crafted the unicorn birthday cake dreams are made of.
It might be too pretty for candles?
Jackie Carvajal, the 35-year-old baker behind The Glass Oven, tells Elite Daily that while she normally doesn't do confetti sprinkle-covered unicorn cakes, she's "sure it'll start a craze" with her customers — naturally.
"I love the idea of it being covered in confetti sprinkles," she tells us. "It's so different from other unicorn cakes I've seen."
Carvajal specializes in what she calls "messycakes."
The Miami native says she transitioned into the messier, anti-fondant genre after years of covering her desserts in the sleek sugar coating. "[They're] in essence two desserts in one," she says," composed cake layered with other desserts such as cheesecake, pie, or cookies. They have a rustic, unfinished look to them."
However, she does offer to cover the messiness for clients who request it, which was the case for her uni-creation. She tells Elite Daily,
Underneath the confetti sprinkles in that specific cake is the key lime pie messycake. Layer of citrus poppyseed cake, vanilla frosting, and chunks of tangy key lime pie make this flavor one of the top sellers.
(FYI: This specific tasty key lime pie messycake is called "Citrus Poppyseed" on The Glass Oven's menu.)
Carvajal says the cute, glittery ear and horn cake toppers made were someone else, but she did a great job incorporating them into her sprinkle-covered design, to be honest.
I personally can't imagine another birthday without a unicorn cake. It's made for Instagram and will look extra cute with a crown of candles, ready for a wish.