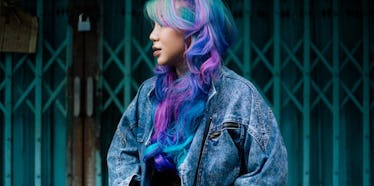 9 Celebs Who Rocked "Mermaid Hair" To Give You Serious End-Of-Summer Inspiration
Nabi Tang
Mermaid hair is a thing, peeps, and if you're like me, these daring celeb looks are super tempting. I think about giving myself a color change, and then I tip-toe away from the idea because I don't want to screw up my look with a bad dye job -- and also because I have to consider the different professional work environments I may find myself in. Still, we are nearing the end of July, and I'm heavily thinking about giving my afro puff a little color pop before the summer wraps.
Go ahead and give into your mermaid hair obsession before summer ends so you can at least say you let your hair live its best life, even if you didn't take yourself on away on a tropical vacation this year. Going with a few mermaid colors is like giving your hair a vacation instead.
Here are a few celebrity hairstyles that prove you can totally express your love for colorful tresses and look great doing it.
1. Kylie Jenner
Remember Kylie's 2016 Coachella? She looked amaze-balls.
2. Blac Chyna
And look at pre-nudes Blac Chyna! She matched her rainbow mermaid hair to a pastel-hued Chanel bag. Goals AF!
3. Alicia Keys
Alicia Keys added a little fire to her braids.
4. Cara Delevingne
Glitter plus a pixie cut equals boss levels of mermaid style.
5. Hilary Duff
Blue hair, don't care!
6. Bella Thorne
What a time to be alive. Bella Thorn was a Scott Disick-less beauty with half a redhead and the other half all rainbow.
7. Hailey Baldwin
Millennial pink for the win!
8. Justine Skye
Kylie Jenner clearly keeps a mermaid posse. This is her bestie, pop singer, Justine Skye. Her whole Instagram will give you purple hair envy. Do not be ashamed, OK?
9. Karlie Kloss
Karlie Kloss flossing blue hair and blue eyeshadow was some serious supermodel sh*t.
It's your choice, mermaids! You can so freaking do this! Do not be afraid!
Don't these photos make you want to just shove your head in a bucket of dye and pull it out with a fab hairstyle and popping color!? OK, maybe it doesn't exactly work like that, since life isn't an episode of The Fairly Oddparents, but you get the point.
By the way, if you're scared to screw things up, then go with a mermaid-colored wig. There are plenty of natural-looking ones out there these days and lots of YouTube hacks to keep you informed and fabulous.
Sink or swim! The summer's ending soon and your Instagram selfie count depends on this.