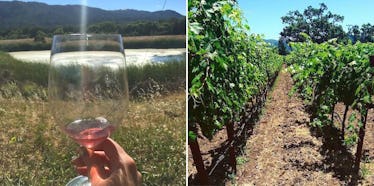 12 Boozy Vacations To Go On In Your 20s That'll Take Your Wine Obsession Global
Kaylin Pound
If you're a wino who also happens to have a serious case of wanderlust, I have some good news for you: It turns out your living room sofa isn't the only place you can embrace your glorious wine buzz.
That's right. There are all sorts of incredible places across the globe that serve as the perfect travel destinations for wine lovers.
Now, I know what you might be thinking, and the answer is, no, touring wine country isn't just an activity for bougie wine connoisseurs and middle-aged couples anymore.
Wine tourism is gaining momentum among millennials, as 20-somethings increasingly opt to add a tipsy element to their travel plans.
Susan Kostrzewa, the executive editor of Wine Enthusiast, told Elite Daily,
The current younger generation of wine drinkers are as much about the story and experience of the place in which wine is made as they are about what's in the glass. It follows the food movement. Millennials want to know more about the soil, the people, the culture from which their wine comes. Traveling to those regions adds a rich dimension to the wine story.
Then again, the fact that millennials are gravitating toward wine-centric getaways shouldn't come as too much of a surprise, because let's be real, who doesn't want to spend their vacations sipping every type of vino known to mankind?
If you're looking to satisfy your thirst for both wine and adventure, we combined some of the best wine travel destinations from Wine Enthusiast with a few of our favorite vino-friendly getaways to create the ultimate boozy travel bucket list.
Check out the pictures below to see some of the best travel destinations for wine lovers.
1. Cafayate, Argentina
Located in the northwestern region of Argentina, Cafayate is known for its charming colonial villages, jaw-dropping landscape and high-altitude vineyards that produce some of the best damn Malbec on the face of the planet.
Kostrzewa said,
Hiking the Quebrada de las Conchas, horseback riding and all-terrain rides through the desert dunes are a fun way to experience the area.
2. Thracian Lowlands, Bulgaria
If you're a history buff who's looking to get buzzed, Bulgaria's Thracian Lowlands are the perfect place for you to geek out over a glass of vino. Believed to be one of the oldest winemaking regions in the world, the Thracian Lowlands are rich with history and combine ancient culture with new-age winemaking techniques.
Kostrzewa explained,
The Thracian Lowlands region of Bulgaria is also a great place for value travel. It has beautiful scenery, distinctive wine, and fantastic food at a price that makes it easy to digest.
3. Sicily, Italy
Situated just off the coast of Italy, this island has something for every type of wine drinker. Sicily offers a wide range of high-quality reds and whites that pair perfectly with all of your favorite Italian eats.
In addition to wine tours and tastings, Sicily is also home to sun-soaked beaches, volcanoes, ancient Greek temples and old cathedrals, so it's basically impossible to be bored here.
4. Marlborough, New Zealand
If you're a wine drinker who loves the great outdoors, you can't go wrong with a trip to Marlborough, New Zealand.
Kostrzewa dubs this place as an awesome destination to drink top-notch wines -- like the region's world-renowned Sauvignon blancs -- and get in touch with nature by hiking or cycling around Marlborough.
5. London, United Kingdom
London has long been known as a place to score all kinds of phenomenal wines.
You can find top-notch bottles in historic shops or browse through impressive wine lists at London's luxe bars and restaurants. Plus, there's also a variety of wineries and tasting rooms not far from the city that showcase England's best sparkling wines.
6. Provence, France
If you're looking to embrace your basic side and sip on rosé all day, you'll definitely want to check out Provence.
Situated along the Mediterranean Sea, this stunning region of France is known for its irresistible dry rosé wines, romantic AF vineyards and seriously Instagram-worthy lavender fields.
7. Calistoga, California
Nestled at the top of Napa Valley, Calistoga is a charming, rustic town that has everything from whimsical vineyards and wineries hidden inside beautiful castles to chic farm-to-table restaurants, luxurious spas and healing hot springs -- not to mention, Calistoga's infamous mud baths.
8. Las Vegas, Nevada
While the barren deserts of Las Vegas may be home to an abundance of lush, green vineyards, Sin City is still an awesome spot to score some of your favorite wines. Las Vegas has one of the highest concentrations of Master Sommeliers in the country who can guide you through luxe wine tastings and pairings at some of the most glamorous restaurants on the strip.
Las Vegas has one of the highest concentrations of master sommeliers in the country who can guide you through luxe wine tastings and pairings at some of the most glamorous restaurants on the strip.
9. Hood River, Oregon
Kostrzewa dubs Hood River as another ideal spot for younger travelers, saying, "not only is it domestic and won't empty your wallet, but it is also known for quality wine, progressive restaurants and outdoor activities, like hiking, biking, camping and rock climbing."
In addition to vineyards and wineries, you'll find brew pubs, cider houses and distilleries scattered along the river, so there's something to suit every type of traveler's taste here.
10. Long Island, New York
If you journey out to Long Island, you'll find the Hamptons have more to offer than just beaches, beautiful people and opulent parties held in oceanfront mansions. Long Island also has a variety of gorgeous vineyards and wineries that serve as perfect places to relax with a glass of vino in hand as you recover from a next-level hangover.
11. Franschhoek, South Africa
Franschhoek is home to farms and Cape-Dutch style wineries that offer everything from Franschhoek's infamous Méthode Cap Classique sparkling wines to a wide array of chardonnays, Sauvignon blancs and cabernets.
The mountains that surround this quaint town also serve as the perfect place to partake in a variety of outdoor activities, such as cycling, horseback riding and fishing.
12. Burgenland, Austria
Located alongside Lake Neusiedl, Burgenland is known for its indigenous red wines, dry whites and sweet dessert wines.
If you're looking for some activities other than getting wine wasted, Burgenland boasts beautiful nature reserves, thermal springs, leisurely water sports and 600 miles of bike trails.