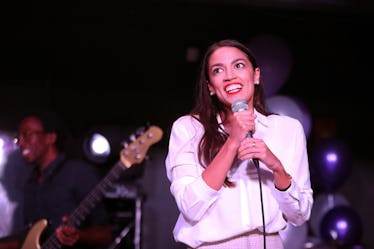 Alexandria Ocasio-Cortez Is Putting Her Money Where Her Mouth Is On Paying Interns
Rick Loomis/Getty Images News/Getty Images
Odds are that if you're reading this right now you might have been an unpaid intern at some point over the last few years. Interns, while usually gaining experience and knowledge, have been known to take on a brutal workload with zero compensation. But one new politician on the block is saying no to the unpaid intern thing. Alexandria Ocasio-Cortez will pay her interns "at least" $15 an hour, according to a Dec. 4 tweet, so let's start the slow clap for her.
In a Monday, Dec. 3 tweet, Ocasio-Cortez called out Congress for relying on unpaid interns, saying it's "unjust for Congress to budget a living wage for ourselves, yet rely on unpaid interns." Pay Our Interns — an advocacy group committed to increasing the amount of paid internships in the government, for-profit, and nonprofit sectors — conducted a 2017 study into congressional internships and found that only 8 percent of House Republicans and about 4 percent of House Democrats pay their interns. Well, on Tuesday, Dec. 4, Ocasio-Cortez decided to put her money where her mouth is, and tweeted that her office will pay their interns. "Time to walk the walk," she wrote. "Very few members of Congress actually pay their interns. We will be one of them."
It's not really all that surprising that Ocasio-Cortez is already on her way to make changes in Congress even though she's new to the scene. Ocasio-Cortez first beat out 10-term incumbent Rep. Joe Crowley for New York's 14th Congressional District during the New York primaries in September, and then went on to defeat Republican candidate Anthony Pappas with nearly 80 percent of the vote in November's general election. At just 29, Ocasio-Cortez is the youngest woman to ever join the U.S. House of Representatives.
Ocasio-Cortez was committed to change from the beginning, the self-identified "democratic socialist" ran on a leftist platform which advocated for real change in arenas like gun control. She was a vocal opponent of President Donald Trump's administration's zero-tolerance policy on immigration, which prosecutes any undocumented immigrants trying to cross the border. Because the administration's policy detains and prosecutes all undocumented adults, it led to the separation of over 2,000 children from their families, because children cannot be processed through the adult criminal justice system. Before her primary victory, Ocasio-Cortez visited the border to protest the policy, per CBS News, and in a November tweet compared the current migration crisis to the Jewish refugee crisis during WWII.
Ocasio-Cortez isn't the only new member of Congress shaking things up. This year's new congressional class is more diverse and includes more women than ever before, according to The New York Times, and Ocasio-Cortez is just one historic victory in the bunch. She also joined Rashida Tlaib of Michigan's 13th District and Ilhan Omar of Minnesota's 5th who became the first Muslim women elected to Congress. In this record-breaking congressional class is also Deb Haaland, who won New Mexico's 1st District and Sharice Davids of Kansas' 3rd District, both becoming the first Native American women to serve in Congress.
Election Day 2018 saw a lot of change and it looks like our new leaders are already getting to work making it happen.