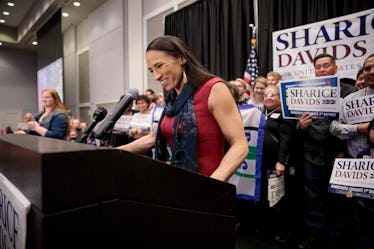 Sharice Davids Thinks Diversity Will Create More Trust In America, & She's Got A Point — EXCLUSIVE
Whitney Curtis/Getty Images News/Getty Images
Tuesday, Nov. 6 was a historic night for women — especially for women of color. With the results of the 2018 midterm elections, Democrat Sharice Davids made history in Kansas' 3rd Congressional District. In an interview with Elite Daily following the results of the election, Sharice Davids talks about her historic win — and why it's such a big deal.
When I ask Davids how it feels to have broken major barriers around racial and gender representation last night, she laughs. "It's still surreal," she tells me over the phone. "I'm grateful to be able to participate in this moment in history."
It's hard to overstate the significance of David's victory. Not only did she accomplish the impossible by ousting a Republican incumbent, Kevin Yoder, in a state that went overwhelmingly for Donald Trump in 2016, and as a first-time candidate to boot — she also did all this as an openly LGBTQ Native American woman in what's been labeled one of the most conservative states in the country in recent years. A member of the Ho-Chunk nation, Davids now joins New Mexico's new representative Deb Haaland in becoming the first two Native American women elected to the House. She's also the first LGBTQ representative from her state, as well as one of the only LGBTQ women in the House.
"From the beginning, this campaign has been about bringing new leaders to the table, and new voices to the table," Davids said during her victory speech Tuesday.
Davids cites her role in addressing issues that constituents — many of whom opened up to her with personal stories — were worried about. One of her major priorities as a congresswoman, she says, will be improving access to affordable health care. "People are willing to share some of the most intense pieces of what's going on with their lives because they believed elected officials can have an impact on these things," she says.
We have to have a sense of trust and knowing that our elected officials are really thinking about us as people.
Davids' win was among a record-setting election for women overall. In what's being aptly called the second "Year of the Woman," women candidates won a staggering 96 seats in the House, bringing the total number of women in Congress up to its highest levels ever. Among them, notably, the country also elected to the House the first Muslim American women (Ilhan Omar of Minnesota and Rashida Tlaib in Michigan), the first black women from Connecticut (Jahana Hayes) and Massachusetts (Ayanna Pressley), the first Latina women from Texas (Sylvia Garcia and Veronica Escobar), and the youngest-ever woman in Congress (Alexandria Ocasio-Cortez, 29, of New York).
For Davids, having the diversity in Congress that Tuesday's results solidified might have a positive impact on the relationship between the electorate and the elected. "I think that having so many people running for office who are more reflective of the experiences of the vast majority of people and our community and our country, I do think that helps people," she says. "We have to have a sense of trust and knowing that our elected officials are really thinking about us as people." She adds, "I'm optimistic that people are going to have more trust in, and even respect for, Congress."
She got a taste of this during the campaign, as she told me back in June. A constituent had emailed then-candidate Davids, saying she was also an LGBTQ Native American woman. "'I literally never would've imagined I could vote for somebody who is ... so similar to me,'" Davids recalled the woman telling her.
And Davids, clearly taking her newly minted role seriously, isn't resting on her laurels. Tellingly, she went to bed early on Tuesday night, so she could be ready for the day ahead. "We have a lot of work to do," she says.