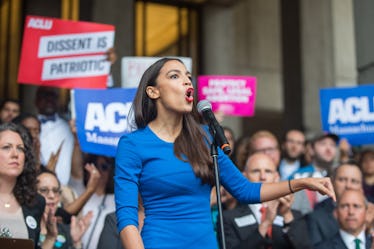 Alexandria Ocasio-Cortez's Midterm Victory Reveals A Lot About American Politics
Scott Eisen/Getty Images News/Getty Images
In one of the most publicized House races in the country, Alexandria Ocasio-Cortez won in her bid for New York's 14th district, according to the Associated Press, which called her race shortly after 10 p.m. ET. In a year characterized by as the "Year of the Woman" and a "Blue Wave," numerous progressive outsider candidates have swept up nominations, and now wins, in even the most unexpected of seats. As the results of Tuesday, Nov. 6 now confirm, Alexandria Ocasio-Cortez's victory in the midterms marks a pivotal moment in our country's political trajectory.
At age 29, Ocasio-Cortez is the youngest woman to join the U.S House of Representatives. With her big victory in the June primary, Ocasio-Cortez had already done what was thought impossible by defeating Democratic incumbent Rep. Joe Crowley, who had held the seat for decades. Going into Tuesday's general election, she faced Republican candidate Anthony Pappas. She ran on a progressive platform reminiscent of Bernie Sanders' 2016 presidential run — a $15 minimum wage, universal Medicare, free college for all, and climate change among them — and apparently, it resonated with voters. She was also among a group of Democratic candidates endorsed by President Barack Obama.
Ocasio-Cortez's campaign had started from humble beginnings, as she told me in an interview for Elite Daily in early June prior to the primaries. "I started my campaign out of a Trader Joe's bag with a bunch of printed palm cards and an idea," she told me. "I did that for five months."
Following her major victory in ousting a long-time incumbent, Ocasio-Cortez became something of a poster child heralding the dawn of a new era in American politics, one that would be led by a more diverse cross-section of the electorate. In a year marked by record numbers of traditionally under-represented candidates (including women, women of color, scientists, and LGBTQ individuals) running for office, she seemed to buoy hopes for those looking for new faces in Congress.
Unlike her predecessor, the third-generation Bronxite Latina was not grandfathered into the New York political sphere — not to mention the fact that she's young enough to still get carded at bars and is still paying off her student loans from college. As to why Congress could stand to have younger voices at the table, she told me, "Congress is too old, they don't have a stake in the game. ... They won't have to deal with 20 foot storm surges, but we will."
And the message clearly was strong enough to carry Ocasio-Cortez to a second victory, as Tuesday made clear.
She sent a message that the political landscape is ripe for the taking, and you don't have to be rich or well-connected to access it. That's a lesson that everyone can take to heart.