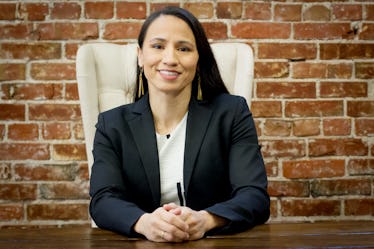 This MMA Fighter Is Running For Congress & You'll Want Her In Your Corner — EXCLUSIVE
The first time she stepped into the Mixed Martial Arts (MMA) ring in 2006, it only took a matter of seconds before Sharice laid out her opponent with a chokehold. The fight to get onto the November ballot in the 2018 midterm elections, on the other hand, might take slightly longer. Sharice Davids, a former MMA fighter, is in the running to represent Kansas' 3rd congressional district in the U.S. House, and her candidacy is a big deal for a lot of reasons.
In most typical campaign videos, candidates are shown volunteering or shaking the hands of blue-collar workers. In hers, Davids is throwing kicks and punches in a boxing gym. "It's 2018, and women, Native Americans, gay people, the unemployed, and underemployed have to fight like hell just to survive," Davids says, wailing on a bag. "And it's clear: Trump and the Republicans in Washington don't give a damn about anyone like me or anyone that doesn't think like them. That's why I'm running for Congress."
You learn to fight so you don't have to fight.
If elected, Davids might well be the only person in the House who's well versed in mat work. But the 37-year-old Democrat would also become the first openly gay representative from Kansas, one of the only LGBTQ members of Congress, and potentially one of the first female Native Americans in Congress. Davids is a member of the Ho-Chunk nation, a Native American tribe primarily based in Wisconsin.
The prospect of having an indigenous woman on the ballot this fall is part of a larger trend in which women candidates especially are poised to become historic firsts. Stacey Abrams of Georgia, for example, is positioned to become the country's first ever black woman governor.
Though people usually mean it figuratively, knowing how to fight for something is not exactly a bad quality to have as a congresswoman. "You learn to fight so you don't have to fight," she tells me in an interview for Elite Daily. "It's discipline. It's learning how to push yourself past a lot of barriers that you create in your mind." She likens jiu-jitsu, her primary martial art, to a game of chess.
In 2014, she estimates she was training 30 hours a week to compete for a coveted spot on the Ultimate Fighting Championship (UFC) women's team. During her fighting career, she had a 5-1 amateur record and 1-1 record as a pro. She has trained in multiple forms, including jiu-jitsu, capoeira, combative taekwondo, and karate.
Certainly, Davids has had practice at how to stay calm under pressure, and not just in the cage, but, say, in high-level meetings with President Barack Obama. Davids grew up the daughter of a single Army mother, living on various military bases around the country and globe and went on to study at Cornell Law School. Her career since has seen her as a lawyer working on Native American reservations, the deputy director of a community housing development project, and a White House fellow.
The same feeling that pushed her to compete for the UFC team is what's driving her run for office. "I felt like I would regret it at the end of my life if I didn't at least try to get into the UFC," she says. Now, running for office, "If I didn't do something at this time in history, at the end of my life, I would certainly feel regret."
When people see a black woman or a native woman or a Latina or an LGBT person, it should be part of the norm that they look and see a leader.
Though two men who identify as Native American are currently serving in the House, no indigenous woman has ever done so. But that could change this year; Debra Haaland, another indigenous candidate just won the Democratic primary in New Mexico. If Davids makes it past her Aug. 7 primary, she and Haaland could become the first two Native American women in the House — going from zero to two in one election cycle. On the Senate side, candidate Eve Reyes-Aguirre is looking to do the same in Arizona, and other native women are vying for governorships and state-level offices this year.
"I definitely feel a sense of pride that it's even a possibility," Davids says of the prospect of being elected. "The gravity of it is heavy." The Ho-Chunk nation, she tells me, has been very supportive of her candidacy and has made financial contributions to her campaign.
Davids recalls emails she's received from a couple of young women supporters who grew up in the district. "I'm a Native American queer woman," she says, paraphrasing emails she's received from supporters in her district. "I literally never would've imagined I could vote for somebody who is—" She goes silent for a few tense seconds. "Who's so similar to me."
A win for Davids would also boost the number of LGBTQ representatives in Congress, where they make up less than half a percent despite being 4 percent of the population. But this is also changing this year as LGBTQ candidates are getting their names on ballots at high rates. The only LGBTQ representative currently in the House is Arizona Rep. Kyrsten Sinema, but she's running for a seat on the Senate. If she wins, this would leave the house without any LGBTQ representation, a void that candidates like Davids could help fill.
Davids is all for increasing representation. "When people see a black woman or a native woman or a Latina or an LGBT person," she says, "it should be part of the norm that they look and see a leader."
It won't be any easy task for Davids to get on the November ballot. She's got the endorsement of Emily's List, an organization that promotes women running for office, but the race is already crowded, and even if she secures a spot, she'll be going up against an incumbent with a substantially larger war chest. According to the Federal Election Commission's disclosures, as of writing, Republican Kevin Yoder, who's held the seat since 2010, had nearly $2.24 million in funding and had shelled out nearly $690,000 on his campaign; Davids had just shy of $127,000.
But Davids is not intimidated. If fighting has given her anything (aside from enviable punch-throwing skills), it's the ability to take on a challenge. "The more times people question what I'm doing, the more I see that it's exactly what I should be doing."