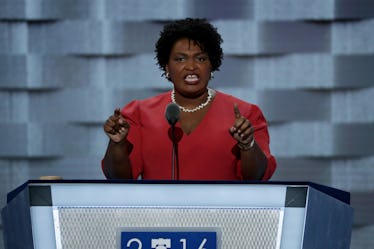 This Georgia Democrat Could Be The Country's First Black Woman Governor
Alex Wong/Getty Images News/Getty Images
In the primary elections on Tuesday, May 22, one name in particular is getting a lot of attention, and for good reason. Stacey Abrams, a Georgia Democrat running for governor, is set to make history. If elected, she'd become the first woman and first person of color to serve the highest elected office in Georgia, as well as the state's first Democratic governor since 2003.
A win for her on Tuesday would also put her on the path to make history for more than just Georgia. If she clinches the victory in the primary and goes on to win the general election, Abrams would also be the first black woman governor in the country's history.
As with U.S. Congress, statewide offices have historically had a dearth of black women. According to a report by the Center for Women in Politics, only three black women currently hold statewide elected offices in the country, and historically, out of 312 seats total, have only ever held 12 of them. No black woman has ever served as governor in any state.
But candidates like Abrams are looking to change that in this year's elections. There is a groundswell of women of color — black women especially — who are getting their names on ballots across the country in the 2018 midterm elections. As of writing, there are currently 603 candidates listed in the database Black Women in Politics. And Abrams, a former state representative to the Georgia House, is used to breaking representation barriers in politics. Per her campaign, she was the first woman to lead the state's general assembly, as well as the first black person to lead the House.
Georgia's current governor, Nathan Deal, a Republican, was elected to the seat in 2010 and re-elected in 2014. Thanks to term limits, he's not eligible to seek re-election, leaving the playing field wide open for both parties to fill the void. Georgia is an open-primary state, which means that registered voters don't need to be registered with a particular party in order to vote in their primary.
The winner of Tuesday's Democratic primary will face off against the Republican candidate, meaning Abrams has to beat out only one competitor — fellow former state Rep. Stacey Evans — to make it to the general election in November. As POLITICO points out, defeating Evans won't be a cakewalk, but polls show Abrams with a sizable lead over her Democratic opponent. It doesn't hurt that she has the endorsement of Democratic heavyweights Sens. Bernie Sanders of Vermont, Kamala D. Harris of California, Kirsten Gillibrand of New York, and former Secretary of State Hillary Clinton, among other prominent party members.
But beating out Evans in the primary is just the first hurdle. As a Democrat, Abrams would have to fight an extremely uphill battle going into the general election. Georgia went 50 percent for Donald Trump in the 2016 presidential election. The state is currently in a Republican triplex, meaning one party holds a monopoly on the top three executives offices (governor, attorney general, and secretary of state). Since 2005, per Ballotpedia, Georgia has also been a Republican trifecta, which signals one-party dominance of the state legislature (House or Assembly and Senate) plus the governorship.
According to the U.S. Census Bureau, the state is 32 percent African American. Per data by the Georgia Secretary of State, black women comprise over 1 million, or about 17 percent, of the state's total registered voters.
Normally, the cards would be so stacked against a Democrat that Abrams wouldn't stand a chance, but after the Alabama special election in December 2017, all bets are off. Thanks to a victory by Democrat Doug Jones that upset a solidly Republican state, Democratic hopes of a full-blown takeover were fueled. Now, the country is waiting on baited breath to see if Abrams can pull out another miracle in Trump country.
Per Ballotpedia, as of the April quarterly campaign finance disclosure, Abrams had outraised Evans by about $3.3 million to $2.6 million, respectively. And while money isn't the only indictor of victory in political races, it's a pretty strong one.
Abrams is joined by other women in the Georgia primaries, such as candidate Lucy Bath, who are on the scene ready to oust their Republican incumbents. But a win for Abrams would launch the candidate into position to make history. All eyes are now on the polls, which close at 7 p.m. local time.