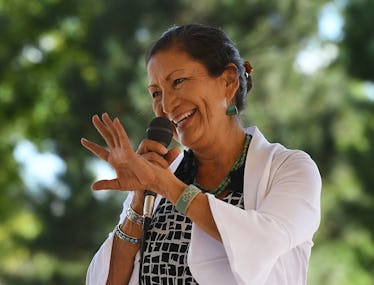 Deb Haaland's Historic Victory Means An Important First — & Second — For Congress
MARK RALSTON / Contributor, Getty Images
Deb Haaland cannot be stopped. On Nov. 6, the former community activist and Democratic state party leader won the race to represent New Mexico's 1st Congressional District in the U.S. House, which makes her one of the first Native American congresswoman in United States history. To be honest, the accomplishments are true causes for celebration, whether you voted for her or not. So to start the party off, here's everything you need to know about Deb Haaland's 2018 midterms win.
The win makes her one of the first Native American women in Congress, along with Sharice Davids of Kansas, which is especially important since Haaland's victory means that Congress will actually have multiple Native American women serving. Haaland faced off against Republican Janice Arnold-Jones, and according to the Associated Press, Haaland was up 59.4 percent to Arnold-Jones' 36.5 percent with 80 percent reporting.
Over the course of the race, Haaland drew widespread support for her progressive initiatives, including implementing the universal health care policy "Medicare for All", creating a plan to tackle climate change, and expanding access to abortion care. She also supports the abolition of the U.S. Immigration and Customs Enforcement (ICE) agency, which faced intense scrutiny over the summer for the Trump administration's now-abandoned "zero tolerance" policy, which permitted the separation of migrant families after crossing in the U.S. Southern border illegally. Her initiatives stood in stark contrast those of Arnold-Jones. She, on the other hand, reportedly supports immigration reform.
While the race was an overwhelming blowout, it might not be totally surprising that Arnold-Jones lost in hindsight. She became the brunt of widespread fury and condemnation just months before the election after she suggested Haaland wasn't Native American because she didn't grow up on a reservation.
The moment happened in a Sept. 6 interview on Fox News, when host Ainsley Earhardt noted that Haaland would be the first Native American congresswoman, if elected. Arnold-Jones replied, "That's what they say, yes." When asked to elaborate on the puzzling comment, she said this:
Well, there's no doubt that her lineage is Laguna, but she's a military brat, just like I am, and so... you know, it evokes images that she was raised on a reservation. She belongs to a pueblo.
After seemingly realizing that she was treading on racist lines, Arnold-Jones quickly added that Laguna is a "wonderful lineage." Haaland responded to Arnold-Jones soon after her comments in a tweet, saying, "My opponent's assertion on Fox News today that my parents' military service means I am not Native American is racist, an assault on military families, and wrong. #nm01#nmpol." The backlash rolled in for Arnold-Jones, and it could have possibly affected her bid for Congress.
In a speech after her primary win back in June 2018, Haaland said, "Tonight, New Mexico made history." She continued, calling her victory a "victory for working people, a victory for women, and a victory for everyone who has been sidelined by the billionaire class." She also reportedly called out President Donald Trump, saying, "Donald Trump and the billionaire class should consider this victory a warning shot: the blue wave is coming."
And now, here we are. Let's hope Haaland can keep her promises.