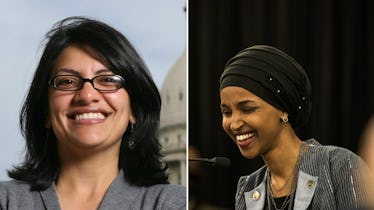 These Two Groundbreaking Victories Are Putting The First Muslim Women In Congress
AL GOLDIS/AP/SHUTTERSTOCK // Stephen Maturen/Getty Images News/Getty Images
A record number of women decided to run for office in 2018 and hopefully change the face of politics. Amongst them were Rashida Tlaib of Michigan's 13th District and Ilhan Omar of Minnesota's 5th District, who made history when they won their primary elections, setting them up to be the first Muslim women in Congress. Well, consider that record broken, because Rashida Tlaib and Ilhan Omar won their 2018 midterm races, and history was just made.
The Associated Press called the race for Omar at around 9:30 p.m. ET. Tlaib and Omar will be the first Muslim women to serve in Congress, although not the first Muslims in Congress overall. There are currently two Muslim men serving in Congress, Keith Ellison of Minnesota and Andre Carson of Indiana.
Tlaib, who is Palestinian-American, began her journey began in August when she won her district's Democratic primary with 33.2% of the votes, beating out five other Democratic candidates running in Michigan's 13th District, according to CNN. She ran unopposed, so her history-making victory was kind of inevitable.
Omar, who was the first Somali-American legislator in the country, also has a history that's increasingly relevant in 2018: as a child, she was a refugee. Omar immigrated to the United States as a teenager after fleeing the Somali civil war and spent four years in a refugee camp in Kenya before arriving in the United States, per ABC News. Prior to winning her congressional race, was a member of the Minnesota House of Representatives. She faced off against Republican Jennifer Zielinski.
Omar will take over the seat of Keith Ellison, who left his position to run for Minnesota attorney general. Tlaib will take over the Congressional seat of Rep. John Conyers, who resigned in December following allegations of sexual harassment. Conyers admitted to settling sexual harassment complaints but denies all of the allegations leveled against him, according to Slate.
While more representation is always important, the two women's wins are especially relevant in 2018. At the beginning of his term in 2017, Trump instituted a travel ban targeting Muslim-majority countries, banning many immigrants from countries like Syria, Iran, and Libya, and the administration's actions on immigration in general have been heavily criticized. Despite the ongoing refugee crisis around the world, the Trump administration moved in late 2018 to cap the number of refugees admitted to the United States at 30,000, a historic low. This year saw policies like the zero-tolerance immigration policy that led to the separation of over 2,000 migrant children from their families at the U.S.-Mexican border. Under the policy, all adults crossing the border without documentation would be prosecuted, and therefore separated from any children with them, as children can't go through the adult criminal justice system.
It's policies like the travel ban and Trump's immigration policy that resulted in not only Tlaib and Omar, but other women of color making the decision to run for office. Another candidate who, like Tlaib, was also backed by the progressive group Justice for Democrats per the Huffington Post is New York's Alexandria Ocasio-Cortez, who won her race for New York's 14th Congressional District. She too made a bit of a record-breaking win, and made national headlines for defeating a 20-year political veteran to win her primary back in June.
In fact, in July Tlaib's campaign manager, Andy Goddeeris, told CNN that Ocasio-Cortez and Tlaib are both progressives dedicated to challenging how the Democratic party norms as of late. Goddeeris said,
Rashida sees a lot of herself in Alexandria Ocasio-Cortez. We feel like we are part of this wave that's coming: unapologetically progressive people who are unafraid of taking on the Democratic establishment.
The 2018 election cycle saw a lot of women like Tlaib and Omar rise up and begin to make their own stamp on politics. Call it change, or revolution, or what you want — it's definitely history.