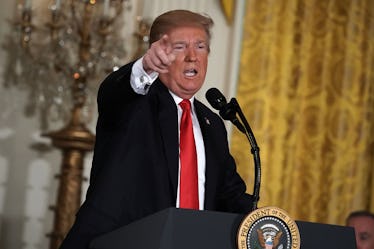 Separating Families At The Border Is Not The Law, But It Is An Effect Of A New Trump Policy
Alex Wong/Getty Images News/Getty Images
Different members of President Donald Trump's administration have provided different reasons for why thousands of migrant children have been separated from their parents after attempting to cross the United States southern border. Those separation have become a national controversy, and in the face of that controversy, some administration members have boasted that the seperation has come as part of a new policy. Others, though, including the president himself, have that the seperation of families is the result immigration laws that demand it, a claim that gives people reason to wonder is separating migrant families the law?
Trump has implied as much on multiple occasions, while blaming Democrats for not changing the laws.
On Friday, June 15, while speaking to reporters on the White House's north lawn, Trump said, "I hate the children being taken away. The Democrats have to change their law — that's their law."
After the weekend, he repeated a similar line.
"If the Democrats would sit down instead of obstructing, we could have something done very quickly — good for the children, good for country, good for the world. It could take place quickly," the president said during a press conference at the White House, on Monday, June 18. "We could have an immigration bill. We could have — child separation — we're stuck with these horrible laws. They're horrible laws. What's happening is so sad — is so sad. And it can be taken care of quickly, beautifully, and we'll have safety."
On Twitter, the president has maintained similar rhetoric.
"The Democrats are forcing the breakup of families at the Border with their horrible and cruel legislative agenda," Trump tweeted on Friday. "Any Immigration Bill MUST HAVE full funding for the Wall, end Catch & Release, Visa Lottery and Chain, and go to Merit Based Immigration. Go for it! WIN!"
Regardless of how many times that line is repeated, though, the suggestion that the law requires separating migrant children from parents who illegally cross the southern border is false.
There is no law that requires the seperation, which is a fact that Republican politicians who are against such a policy have said themselves.
"The administration's decision to separate families is a new, discretionary choice," wrote Nebraska Sen. Ben Sasse. "Anyone saying that their hands are tied or that the only conceivable way to fix the problem of catch-and-release is to rip families apart is flat wrong. There are other options available to them."
Joe Straus, the Speaker of the Texas House of Representatives, made practically the same point in a letter addressed to the president.
"There is no federal law requiring the separation of children and parents at the border," the letter reads. "While it is certainly true that there have been family separations under previous presidents, Attorney General Jeff Sessions' decision to criminally prosecute all adults trying to enter the United States has caused the number of separations to increase."
The seperation of migrant families is actually the result of what the Department of Justice calls a "new 'zero-tolerance policy' for offenses" under laws that prohibit illegal entry into the Unites States.
The policy was announce in April. That same month, Attorney General Sessions said in a speech before law enforcement officers, "We're going to step up our efforts to achieve zero-tolerance, zero releases, and 100 percent prosecution."
That new policy has led to what Sessions promised, the increased pursuit of prosecution for all migrants illegally crossing the border, including those seeking asylum. While migrant adults face prosecution, their children are liable to be separated from them, and held at government-manned facilities.
"It was a simple decision by the administration to have a zero tolerance policy for illegal entry, period," White House aide Stephen Miller told The New York Times. "The message is that no one is exempt from immigration law."