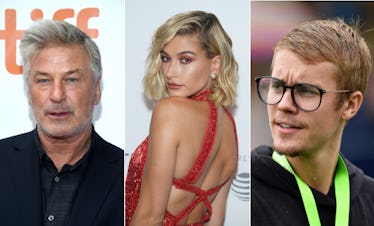 What Alec Baldwin Said About Hailey & Justin Bieber's Relationship Status Will Confuse You
Amanda Edwards & Dimitrios Kambouris & Stuart Franklin/Getty Images Sport/Getty Images
Leave it to Alec Baldwin to muck up a good thing. That's what I always say. His niece Hailey Baldwin is famously engaged to Justin Bieber and fans are simply dying for wedding details. Ever since TMZ leaked photos of the two walking into a New York City courthouse and People reported they might actually be legally married already, mass hysteria has been at a fever pitch. Despite Hailey Baldwin insisting she isn't married yet in a since-deleted tweet on Friday, Sept. 14, Uncle Al sure seems like he's confirming the good news, anyway. Alec Baldwin's comments about Hailey and Justin Bieber could mean the two celebs are already married, which means — say it with me, now — thanks for nothing, Alec! Way to maybe blow the surprise. Elite Daily reached out to both Hailey and Justin's teams for comment on their marital status but did not hear back by the time of publication.
Hailey and Justin got engaged in early July 2018 after just a few fast and furious months of dating and making out everywhere in New York City. Shortly after that, Justin was spotted leaving Hailey's apartment carrying a book titled The Meaning of Marriage: Facing The Complexities of Commitment with the Wisdom of God. This was after he was photographed crying on a bike ride on Aug. 7, leaving fans wondering if there was trouble in paradise.
Exhausting already, right? Hang on.
THEN! (bum, bum, bum) on Thursday, Sept. 13, TMZ released photos of Hailey Baldwin and Justin Bieber entering an NYC courthouse where several eyewitnesses claim they were issued marriage licenses inside the Marriage Bureau. To stir the pot even further, one source said Bieber told a court official, "Thanks for keeping it on the DL."
AND SO!, here we all are, floundering to make sense of this nonsensical world, and Alec Baldwin goes and throws gasoline on the fire. On Sept. 17, 2018, during an appearance on the Emmy Awards red carpet, Alec just let his loose lips fly. Access approached him about Hailey and Justin, and asked about how wild a Baldwin wedding can really get. Alec very reflexively responded, "Well, they [Hailey and Justin] went off and got married and I don't know what the deal is!"
O... K....
Alec added,
We text Hailey every now and then. We met him one time. But as I said, ya know when you get married... I mean, I think it works best if you can really be together. Like, you hook your schedules up where you can really be with each other.
Access also asked Alec if he would have a talk with Bieber about "doing right" by his niece, to which Alec responded, "That's not my job. She has a dad and I'm sure he has a few paragraphs about that himself. So, I'm not worried."
Alec Baldwin also said his advice to Justin Bieber would be, "Um, keep working. Don't stop working."
Gee, what a man of few but poignant words.
Prior to Alec's interview but after TMZ's courthouse photos, Hailey jumped on Twitter to ensure fans she was not officially married at that time. On Friday, Sept. 14, she tweeted: "I understand where the speculation is coming from, but I'm not married yet!" However, in another strange plot twist, she has since deleted the tweet.
A source who is not Alec Baldwin told US Weekly, "They got legally married, but she believes marriage between God is the real thing."
But, for what it's worth, TMZ is reporting that Hailey and Bieber are not married, despite what Alec thinks or says.
The jury is still out, I guess. Someone get Alec away from the cameras.