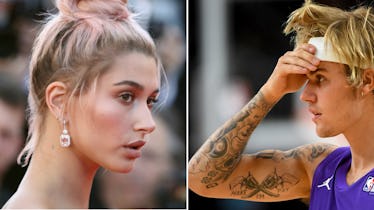 Justin Bieber Explained Why He Was Crying With Hailey Baldwin, But I'm Still Confused
Jayne Kamin-Oncea & Tristan Fewings/Getty Images Entertainment/Getty Images
I'll be honest with you. I was skeptical about the whole Justin Bieber/Hailey Baldwin engagement in the beginning, but I am fully invested now. The young couple hasn't shied away from letting the public peer into their relationship, which recently included a weepy day full of tears during a bike ride. Paparazzi caught up with Bieber to ask him about the seemingly stressful day, and his response was confusing. The reason Justin Bieber and Hailey Baldwin were crying together is still unclear to the public, but know it definitely has something to do with their impending marriage.
On Tuesday, Aug. 7, Baldwin and Bieber were cruising around New York City on bicycles when they pulled over to cry. Baldwin was photographed with her arm thrown over a very distraught Bieber. For a while, he had his face in his hands while tears poured out of his eyes. Eventually, the lovebirds got it together and took off for a restaurant in Tribeca, which was apparently the cue for Baldwin's tears. The model sat across from her fiancé, also misty-eyed. Bieber cupped her face in his hands as they looked emotionally into one another's eyes. People magazine released the photos and they're definitely an emotional rollercoaster.
Weirdly enough, later that day, Baldwin posted a picture of herself and the Biebs on her Instagram story looking just fine.
So what the actual F was going on?
Just one day later on Wednesday, Aug. 8, TMZ paparazzi caught up with Bieber leaving Baldwin's apartment. He was super amicable and even joked around with fans outside. He told one lucky gal she had a great smile. It was lovely. A photographer asked him, "For the fans who saw pictures of you crying, can you just reassure them everything's OK. Are you doing alright?"
Before getting into his car, Bieber held up a book he was carrying (almost as if he was waiting for this question) and proudly announced, "This!" The book was titled The Meaning of Marriage: Facing The Complexities of Commitment with the Wisdom of God.
"You got good days and you got bad days," Bieber said. "It's not real if you don't have any bad days."
Take a look.
Using my context clues, it sounds like he's saying the tear-fest was stemming from some sort of conflict in his relationship with his fiancé.
I did a quick search on the book, and this is part of the summary:
Based on the acclaimed sermon series by New York Times bestselling author Timothy Keller, this book shows everyone — Christians, skeptics, singles, longtime married couples, and those about to be engaged — the vision of what marriage should be according to the Bible...
... Timothy Keller, with insights from Kathy, his wife of thirty-seven years, shows marriage to be a glorious relationship that is also misunderstood and mysterious. The Meaning of Marriage offers instruction on how to have a successful marriage, and is essential reading for anyone who wants to know God and love more deeply in this life.
Fascinating, eh?
Reading between the lines (haha, a book joke!), it sounds like Bieber and Baldwin were just having a stressful day as a young newly engaged couple. Speaking as someone who just tied the knot, I can confidently say: that sh*t is real.
With any luck, it's smooth sailing and smooth bike rides from now on.