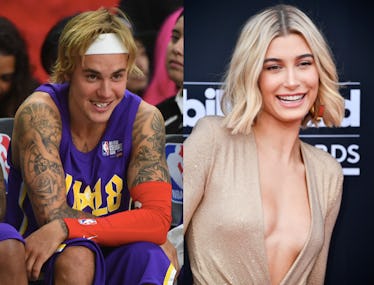 Justin Bieber Hinted He's Getting Married Shockingly Soon & It's A Lot To Handle
Getty Images
It feels like just yesterday that I was sitting around flipping through pictures of Justin Bieber and Selena Gomez romping around on vacation wondering if they would ever make it official and tie the knot. My oh my, have times changed. In what truly feels like the most whirlwind of whirlwind romances, Bieber has done a total 180 and decided to propose to his on-again GF of about a month, Hailey Baldwin. And it's starting to look like their wedding may be coming just as quickly as the proposal did. When is Justin Bieber and Hailey Baldwin's wedding, you ask? It might be right around the corner.
TMZ, the publication that first broke news of the couple's engagement, reported that Bieber dropped some major hints in a recent interview with paparazzi about when his wedding might be. Bieber and Baldwin were walking into an NYC building when paparazzi stopped him to ask what's next in terms of his career after the release of his new song with DJ Khaled, "No Brainer." (If you haven't listened to it yet, I highly recommend doing that ASAP — it's an absolute banger.) Instead of talking about his professional life, Bieber went full Casanova-mode and chose to respond by smiling at his bride-to-be and saying, "What's next? Getting married."
It really sounds a lot like this wedding could happen any moment now. Trust me, I was just as skeptical about the probability of this wedding happening as the next person but, much to my own shock, all signs seem to point to the fact that this is the real deal.
In addition to Bieber's little comment to the paparazzi, the two have also been reportedly making lots of wedding plans. About 10 days ago, we found out the couple is planning a "small wedding." Another detail they've reportedly got figured out? Location. About three weeks ago, it was revealed that the couple's wedding will allegedly take place in Bieber's hometown of Toronto. As if that wasn't proof enough that this is really happening, Baldwin's aunt, actress Kim Basinger, revealed a couple of weeks ago that her niece has already chosen bridesmaids for the wedding.
Most recently, Cosmopolitan reports the couple was "spotted meeting with a pastor on July 29, and Hailey even had a notebook with her." I don't know, maybe it's just me but... people who aren't serious about their weddings don't typically need to take notes when they're meeting with a person who could potentially officiate their wedding.
There still is no set date for the nuptials (as far as the public knows), but it's clear based on Bieber's recent reaction to the paparazzi that he can't freaking wait to make Baldwin his wife. So, let's keep our calendars open and, until then, keep jamming to "No Brainer" because, well, I meant it when I said it's a banger!
Check out the entire Gen Why series and other videos on Facebook and the Bustle app across Apple TV, Roku, and Amazon Fire TV.
Check out the "Best of Elite Daily" stream in the Bustle App for more stories just like this!