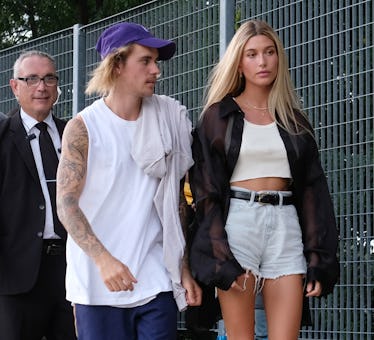 Alec Baldwin's Marriage Advice For Niece Hailey Baldwin & Justin Bieber Is So Important
Nicholas Hunt/Getty Images Entertainment/Getty Images
Young couples getting engaged after a short period of courting appears to have become the new norm in 2018. First, we witnessed Pete Davidson and Ariana Grande's speedy two-weeks-in proposal, followed by the briefly reunited Hailey Baldwin and Justin Bieber's romantic Caribbean getaway, where Biebs pulled a "'pop star" move and popped the question after only a month of rekindling the flame. While both couples seem to be very much in love, there still may be certain concerns that come along with getting engaged so quickly at such a young age — and Alec Baldwin's marriage advice to his niece and her new fiancé touched upon just that.
In a recent interview with People magazine, the actor voiced concern that the pair are both at the height of their careers, and their busy schedules may not intertwine enough for newlyweds. "People who get married young — and they are very young — I want them to just spend time with each other," the SNL star explained.
Baldwin believes that in order to make a marriage work, especially in the entertainment industry and at such a young age, both individuals must put in the face time and effort to be physically together as much as possible. It's worth noting, however, that this doesn't appear to be an issue yet for Bieber and Hailey, who spend plenty of time together publicly biking through the streets of New York City, snuggling up in restaurants, and attending New York Fashion Week shows.
"I'm quite a bit older than both of them, but I got married recently, a few years ago," Baldwin added. "And my wife [Hilaria Baldwin] and I had four kids in four-and-a-half years. We have a lot of little kids." Baldwin's emphasis on spending time with his family, especially his children, despite his busy career and packed schedule, is a message that rings true to all young couples — not just those touched by fame. It's easy to get swept up and stressed out by how fast time flies, but remember: It's the person you love who can help you to stand still.
"Obviously, him, in particular, has this crazy superstar career," Baldwin emphasized. Perhaps Bieber's fiancé will just end up joining him on his next tour — Cosmopolitan reported that Hailey responded to her uncle's advice post-Carolina Herrera runaway show, suggesting that she's planning on taking some time off from her steadfast career.
""It's smart, and it's important. You have to always put family above work, no matter what," The model diplomatically stated. "I've tried to be really choosy with Fashion Week going forward, just because I want to have the time to spend being relaxed and being with family — and my fiancé."
Sounds like true love to me. So will 2019 see a big Hollywood royalty wedding? A date hasn't been set, but as Biebs would say — never say never!
Check out the entire Gen Why series and other videos on Facebook and the Bustle app across Apple TV, Roku, and Amazon Fire TV.
Check out the "Best of Elite Daily" stream in the Bustle App for more stories just like this!