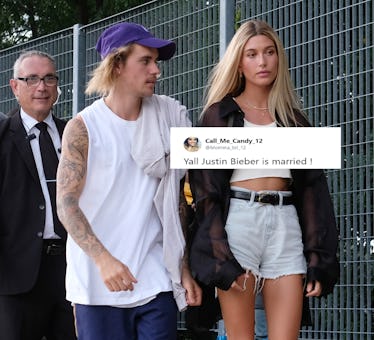 Twitter Is Freaking Out Over News That Justin Bieber & Hailey Baldwin Reportedly Got Married
Nicholas Hunt/Getty Images Entertainment/Getty Images
Hold onto your hats, folks, because your favorite singer from your tween years has apparently tied the knot. Reports of Justin Bieber getting married in New York have hit the internet, and these tweets about Justin Bieber and Hailey Baldwin reportedly getting married sum up all our feels.
Update: On Sept. 14, Hailey Baldwin shut down the marriage rumors with a tweet, reading: "I understand where the speculation is coming from, but I'm not married yet!"
Earlier: PEOPLE originally reported the news on Friday, with sources claiming that Bieber, 24, and Baldwin, 21, were married on Thursday, Sept. 13, at a New York City courthouse. TMZ photos also reportedly showed the couple entering the courthouse on Thursday, but it was assumed that the two were simply registering for a marriage license there. However, their marriage hasn't been officially confirmed, and Entertainment Tonight reports that a source has shared that Bieber and Baldwin are not married yet. Guys, what is this confusion you're putting us through?
Whether or not they're now Mr. and Mrs. Bieber, the fact that the two were spotted at the courthouse means that their wedding is definitely happening soon if it hasn't already. According to ET, a New York marriage license is valid until 60 days from the day following registration, meaning that Bieber and Baldwin have until Nov. 13 to make things official. The news of their possible marriage comes about a month after sources said Bieber and Baldwin were in "no rush" to get married. Pick a lane, Jailey.
On Twitter, Beliebers are freaking out about what to believe, and their posts range from feeling mournful about Bieber being off the market to wondering if the marriage stories are true.
Considering recent reports that the couple could get married as soon as next week, as well as the opposite belief that they wouldn't get hitched until 2019, this possibility of marriage has left tons of fans shook. Baldwin has also been vocal about who her bridesmaids will be, but she and Bieber definitely didn't invite their close-knit crew to the courthouse with them. While they might be husband and wife legally, a "religious source" told PEOPLE that the two are also planning a more formal, religious ceremony with family and friends. "They're going to have a big blowout, in front of God and everyone they love," the source told the magazine.
Getting married so quickly and unexpectedly would certainly fit the tone of the couple's whirlwind engagement. After initially dating a few years ago, Bieber and Baldwin rekindled their relationship in May 2018 before announcing their engagement in July. They also happen to be a third of this summer's trio of speedily engaged celebrity couples. Fingers crossed that Ariana Grande and Pete Davidson or Nick Jonas and Priyanka Chopra don't put us through this much uncertainty when they make things official.
In its report announcing the marriage, TMZ claimed that Bieber told Baldwin at the courthouse, "I can't wait to marry you, baby." Bieber also reportedly said to a court official, "Thanks for keeping it on the DL."
LOL, well, keeping things quiet didn't exactly go as planned.
We have to wait and see if the pair confirms the news soon, but if a wedding didn't happen, they're definitely still close to making it down the aisle together. Congrats to the happy couple!