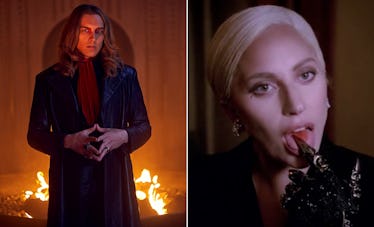 The New 'AHS: Apocalypse' Promo Teases A 'Hotel' Crossover Will Also Happen This Season
FX
We already know that this season of American Horror Story is bringing back characters from Coven and Murder House for a big crossover, but apparently those are not the only past seasons making a comeback in Apocalypse. One small detail in the teaser trailer for the upcoming fourth episode of the season has fans convinced that we will check back into the haunted Hotel Cortez very soon, because an AHS: Apocalypse and Hotel crossover is happening. Let's get into why AHS fans are expecting this new crossover.
Spoiler alert: This post will include plot details from the first three episodes of American Horror Story: Apocalypse. After weeks of waiting, AHS: Apocalypse finally brought back the witches of Coven at the very end of its third episode, as Cordelia Goode, Madison Montgomery, and Myrtle Snow walked into Outpost 3. And we have also gotten a few nods to Murder House as well, with the first season's antichrist Michael Langdon all grown up and a hint that his robotic lackey Miss Meade may have been modeled after his grandmother Constance Langdon. Showrunner Ryan Murphy has also confirmed that even more Coven witches and Murder House ghosts will appear as the season continues, and now some fans are thinking that we may see aspects of other past season besides just those two.
The new teaser trailer for Episode 4 of AHS: Apocalypse includes a very quick shot of Michael Langdon opening a hotel room door. As fans on Reddit were quick to point out, it looks like Langdon will be paying a visit to the Hotel Cortez, the location at the center of AHS: Hotel.
Fans also have a pretty good idea about why Michael Langdon will be checking into the Hotel Cortez also. In the new promo teaser, we see Langdon meet up with Madison Montgomery at some sort of Bed Bath & Beyond-looking store. Shockingly enough, Madison is sporting a vest and a name-tag, even though we all know Madison would not be caught dead working a retail job. And since we saw Madison die in Coven, it definitely seems like Langdon is visiting the witch in her own personal hell.
So how does that tie into Hotel? Well, Michael Langdon may be visiting all of the deceased Coven witches for some reason. Gabourey Sidibe is already confirmed to reprise her role as Queenie, and of course, Queenie died while visiting the Hotel Cortez, so Langdon will probably be going there as a way to contact Queenie.
The big question now is why Michael Langdon would want to bring the witches back to life. As the new promo shows, the witches are planning to stand against Michael, and he even contacted Satan in distress when he seemed to sense some witchy powers in Dinah and Mallory, so why add to his list of opponents? That is the question that Episode 4 will hopefully answer for us.
American Horror Story: Apocalypse Episode 4, entitled "Could It Be... Satan?," will air on FX on Wednesday, Oct. 3 at 10 p.m. ET.