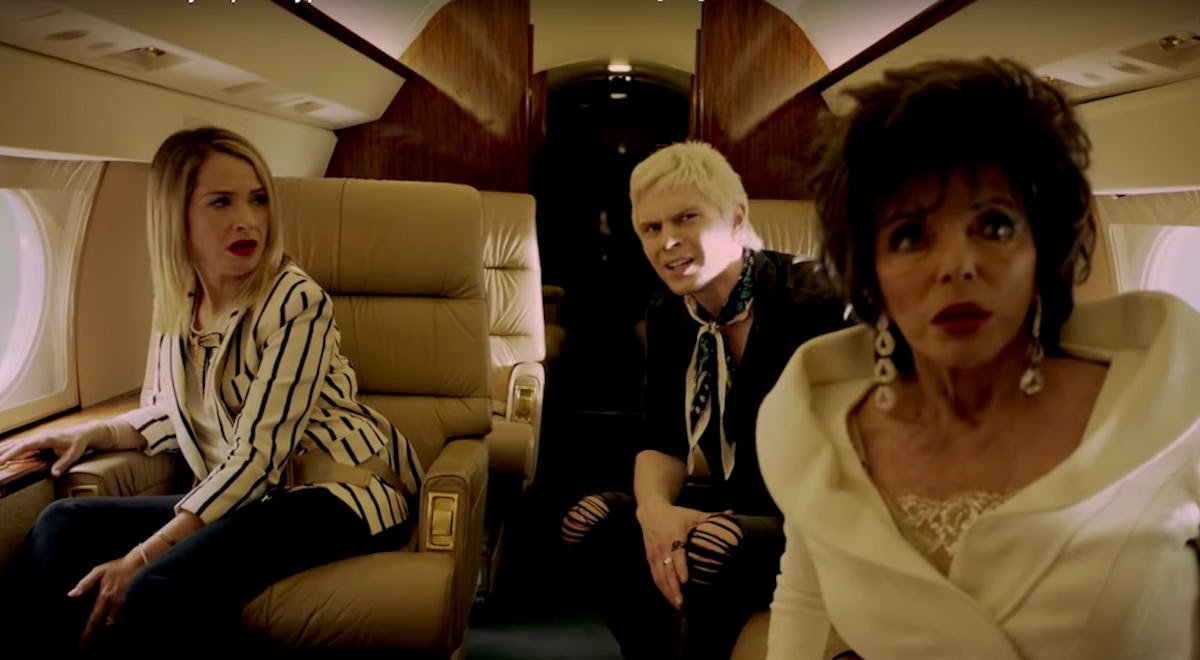 Here's Everything We Know About 'AHS: Apocalypse' Ahead Of Its Premiere
FX
The apocalypse is almost here, so you better start preparing. We are just hours away from the premiere of American Horror Story: Apocalypse, but thanks to Ryan Murphy's loose lips, fans already know a ton of information about the creepy new season. So before you sit down to watch the latest iteration of AHS, here's everything you need to know about American Horror Story: Apocalypse, including who is back, who is new, and what this new season is really about.
The Crossover Element
For tons of AHS diehards, the most exciting element of this new season is the fact that it will include a crossover between past seasons Murder House and Coven. Almost all of the main cast from both seasons are set to return in Apocalypse.
The returning characters from Murder House include: Taissa Farmiga as Violet Harmon, Evan Peters as Tate Langdon, Jessica Lange as Constance Langdon, Dylan McDermott as Ben Harmon, Connie Britton as Vivien Harmon, Sarah Paulson as Billie Dean Howard, and AHS newcomer Cody Fern as the grown-up version of the antichrist Michael Langdon. The titular Murder House will also feature in the new season.
The returning characters from Coven include: Sarah Paulson as Cordelia Goode, Emma Roberts as Madison Montgomery, Taissa Farmiga as Zoe Benson, Frances Conroy as Myrtle Snow, Lily Rabe as Misty Day, Gabourey Sidibe as Queenie, and Stevie Nicks as herself.
The New Characters
Along with all those returning favorites, AHS: Apocalypse is also introducing a ton of new characters. The trailer for the new season gives us a peek at some of them.
Sarah Paulson is pulling triple duty this season but reprising both her Murder House and Coven characters, along with playing the creepy new headmistress Wilhemina Venable. Kathy Bates will play Miriam Meade, who seems to be Venable's right hand woman and a Satan worshipper.
Evan Peters is also playing multiple parts. The AHS vet is reprising his Murder House role as well as playing a spoiled hairdresser, whose name has not yet been revealed. Joan Collins will play this hairdressers grandmother, and it appears Leslie Grossman's character is also part of the wealthy family. Grossman's character is named Coco St. Pierre Vanderbilt, so we can assume this is the Vanderbilt family.
Other new characters include Adina Porter as Dinah Stevens and Billie Lourd as Mallory. There are also a number of actors confirmed to appear whose character names we don't know yet: Billy Eichner, Cheyenne Jackson, Kyle Allen, Billy Porter, Lesley Fera, Ash Santos, and Amazon Eve.
What It Will Be About
So, we know about this hug cast, but what will they be doing? This part of things is still shrouded in mystery for the most part, but there are some crucial details that we know. As the trailer shows, a nuclear apocalypse will force a number of survivors into underground outposts, one of which is strictly run by Sarah Paulson's Wilhemina Venable.
As many fans have predicted, Michael Langdon will be at the center of the new season. Murder House ended on something of a cliffhanger after Vivien Harmon gave birth to her child with Tate Langdon before dying, and then Constance Langdon took and raised the baby, who was predicted to be the antichrist. Apocalypse will show Michael Langdon fully realizing his antichrist powers.
American Horror Story: Apocalypse will premiere on FX on Wednesday, Sept. 12 at 10 p.m. ET.