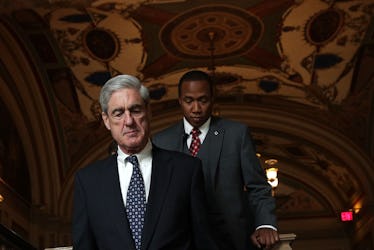 The Senate Might Introduce A Bill To Protect Robert Mueller, & It's About Time
Alex Wong/Getty Images News/Getty Images
It's truly shocking how so much can change in a day. On April 10, Republican senators were sure in their decision that Trump would never fire Special Counsel Robert Mueller, who is investigating possible collusion between the 2016 Donald Trump presidential campaign and Russia. Well, now it's April 11 and a bill to protect Robert Mueller may be making its way for an official vote. It's truly about time, people.
According to Politico, the bipartisan Senate bill would be designed to specifically protect Special Counsel Robert Mueller's job. The bill, titled the Special Counsel Independence and Integrity Act, is reportedly making its way to the Judiciary Committee to see if it advances. The bill was created by Republican Sens. Lindsey Graham of South Carolina and Thom Tillis of North Carolina along with Democratic Sens. Cory Booker of New Jersey and Chris Coons of Delaware. It appears that most senators are on board for the legislation, and although Judiciary Committee Chairman Chuck Grassley has not lent his full support to the bill, he's set it up to advance through the committee.
Even though Grassley has openly said that Trump firing Mueller would be "suicide," he still isn't quite convinced that the legislation is the best move to make.
The legislation would let Mueller, or any special counsel, if fired, receive an "expedited judicial review" within ten days of being terminated to determine whether the firing was reasonable or not. If the answer was found to be "not," then the special counsel would be reinstated.
Coons told Politico that the bipartisan bill is mean to make sure Mueller, along with future special counsels, can do their jobs without any "interference."
"We need to ensure not only that Special Counsel Mueller can complete his work without interference, but that special counsels in future investigations can, too," Coons said.
Even though there has been talk for months about whether protection for Mueller is necessary, it might have been the most recent events which motivated the senators to take action. After the office of Trump's lawyer, Michael Cohen, was raided by the FBI on April 9 (helped by a referral from Mueller's investigation), Trump went on a rant against the special counsel. Trump said,
It's a total witch hunt. I've been saying it for a long time. I've wanted to keep it down... And it's a disgrace. It's, frankly, a real disgrace. It's an attack on our country, in a true sense. It's an attack on what we all stand for. So when I saw this and when I heard it — I heard it like you did — I said, that is really now on a whole new level of unfairness.
Trump also went after Mueller personally. "Why don't I just fire Mueller," he said in the same long statement. And on April 10, Trump took to Twitter to continue his condemnation of the raid and attacks on Mueller's investigation.
These tweets look pretty similar to past posts from Trump. The president has regularly referred to Mueller's investigation of him and Russia's collusion in the 2016 presidential election as a "witch hunt."
On Jan. 10, Trump tweeted,
The single greatest Witch Hunt in American history continues. There was no collusion, everybody including the Dems knows there was no collusion, & yet on and on it goes. Russia & the world is laughing at the stupidity they are witnessing. Republicans should finally take control!
I personally believe this bill couldn't have come at a better time. There's already been reports from The New York Times claiming that Trump has already tried to fire Mueller in June 2017. According to The Times, Trump withdrew his order once the White House counsel threatened to resign if the president carried out the firing. He also reportedly discussed firing Mueller again as recently as December 2017, according to the Times. Elite Daily reached out to the White House for comment, but did not immediately hear back.
We may not be sure if Trump has any plans to fire Mueller, but that hasn't stopped his name being constantly brought up in conversation. On April 10, following the raid of Cohen's hotel, White House Press Secretary Sarah Huckabee Sanders implied at a press conference that Trump might believe he could fire Mueller under recent events.
"He certainly believes he has the power to do so," Sanders said. "The president has been clear that he thinks that this has gone too far."
Well then.
The Special Counsel Independence and Integrity Act might be the most recent move to protect Mueller's firing, but it isn't the only one that's been introduced in the past. Sens. Tillis and Coons introduced a legislation last year that would allow Mueller, or other special counsel, to challenge his firing in court. In addition, Graham and Booker worked on a separate bill that would require a judge to approve a request from the Justice Department to fire Mueller, and other special counsel.
Is suspenseful political thriller a movie genre? If not, I think we have the perfect debut.