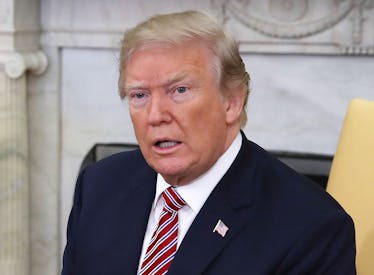 Donald Trump Thinks He Can Get Away With Firing Robert Mueller, So, That's Great
Mark Wilson/Getty Images News/Getty Images
President Donald Trump was absolutely furious once he learned that the office and residence of his personal attorney Michael Cohen were searched by the FBI on April 9. Reportedly, the warrants for the raids were in part thanks to a referral from Special Counsel Robert Mueller, who of course is still in the midst of conducting his investigation into whether the Trump 2016 presidential campaign colluded with the Russian government. And the president is now directing his anger directly at the special counsel, which begs the question — will Donald Trump fire Robert Mueller?
Trump seems to think that he can (hypothetically speaking) fire the special counsel without any repercussions. At least that's what White House Press Secretary Sarah Huckabee Sanders implied at a press conference at the White House on April 10. When a reporter asked whether or not Trump believes he can fire Mueller under these circumstances, Sanders responded by saying, "He certainly believes he has the power to do so." The press secretary added that "the President has been clear that he thinks that this has gone too far," implying that this latest move from the FBI is a legitimate reason to remove Mueller from his post and effectively attempt to end his investigation.
So — this is just great.
Trump himself condemned the FBI raids on April 9. In a long-winded rant the president said, "It's, frankly, a real disgrace. It's an attack on our country, in a true sense. It's an attack on what we all stand for."
Trump also hinted that he might just go ahead and fire the special counsel during his statement about the raid. When a reporter asked him, "Why don't you just fire Mueller?" Trump responded with a casual, "Why don't I just fire Mueller?" It's amazing how nonchalantly this president discusses axing Washington big shots — but then again, I think we've all gotten used to it by now.
So does the president actually have the ability to fire Mueller? Mmm, probably not. According to CNBC, Trump cannot fire the special counsel directly. According to the law which created the position of special counsel, only the attorney general of the United States or someone else that holds equal authority has the power to fire a special counsel. Attorney General Jeff Sessions has recused himself from Mueller's Russia probe, so the next person in line that has the authority to fire Mueller would be Deputy Attorney General Rod Rosenstein.
But according to The New York Times, it was Rosenstein that personally signed off on the raid on Cohen, so I don't see a world where he'd be inclined to fire the special counsel. Not to mention that he's been publicly supportive of Mueller's work. As recently as March 12 he said in an interview, "I don't believe there is any justification at this point for terminating the special counsel." He also told a House of Representatives panel in December, "I can assure you that the special counsel is conducting himself consistently with our understanding of the scope of the investigation."
But why would the president want to fire Mueller over these FBI raids, anyway? Apparently, according to Cohen's own attorney Stephen Ryan, Mueller had a hand in authorizing the search warrants. Ryan said in a statement to The New York Times on April 9,
Today the U.S. Attorney's Office for the Southern District of New York executed a series of search warrants and seized the privileged communications between my client, Michael Cohen, and his clients. I have been advised by federal prosecutors that the New York action is, in part, a referral by the Office of Special Counsel, Robert Mueller.
Essentially, this means that Mueller shared information that he discovered in his investigation into whether or not Trump's campaign colluded with the Kremlin to sway the result of the 2016 presidential election, and it was serious enough to allow the FBI to conduct these search and seizures on Cohen.
Agents reportedly seized documents that include communications between Trump and Cohen, as well as emails, tax documents and business records, per the Times, including documents related to the ongoing legal battle between the president and adult film actress Stormy Daniels among other topics of interest. And although Mueller's investigation didn't conduct the raid, if prosecutors in New York find anything relevant to his probe they may choose to share it. Which is major in terms of how rapidly this whole thing seems to be escalating.
If Trump does somehow orchestrate the dismissal of Mueller from the Russian meddling investigation, the political circus that is sure to follow will be absolutely bonkers. We don't know what the ultimate repercussions will be — but suffice it to say this could get ugly.