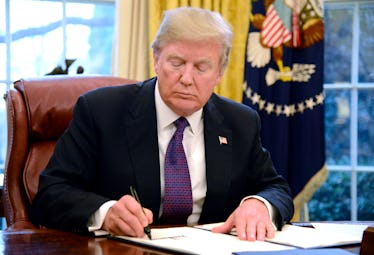 Donald Trump Reportedly Tried To Fire Robert Mueller Already, & It Doesn't Look Good
Pool/Getty Images News/Getty Images
In a turn of events that probably surprises no one, it appears that President Donald Trump might not be as willing to cooperate with special counsel Robert Mueller as he recently said he was. Rumors about the scope of the Russian investigation have been circling for months, but nothing concrete has been determined as of yet. However, on Jan. 25 The New York Times reported that Donald Trump tried to fire Robert Mueller in June 2017. Obviously it didn't really work out.
According to The New York Times, Trump attempted to fire special counsel Robert Mueller in June 2017, but eventually withdrew his order once the White House counsel threatened to resign if the order was carried out. This marks the first reports of Donald Trump attempting to fire the special counsel, despite rumors and speculation that he wanted to. Mueller apparently was made aware of Trump's order in the past few months, according to The New York Times.
Elite Daily reached out to the White House for comment on the report, but did not hear back by time of publication.
Once reports surfaced in June 2017 that Mueller was investigating a possible obstruction of justice case in relation to the president, Trump allegedly argued that the special counsel had a number of conflicts of interest that should permit him from pursuing the investigation. According to The New York Times, Trump reportedly claimed these conflicts of interest included Mueller having to resign his membership from Trump National Golf Club due to fees, Mueller's alleged involvement in a case concerning Trump's son-in-law Jared Kushner's, and that Mueller's interview for FBI director took place a day before his appointment for special counsel.
Though Trump allegedly ordered Mueller's firing, once hearing of the request acting White House counsel Donald F. McGahn II, who served as the top lawyer during Trump's election campaign, refused to comply. Instead, McGahn allegedly threatened to quit if Trump did indeed go through with firing Mueller, as he reportedly worried that it would raise further questions on whether Trump was attempting to obstruct the Russia investigation.
It has been rumored for months that Mueller is pursuing an obstruction of justice case against the president, speculation which has been heightened in recent weeks by reports that Mueller has been interviewing members of Trump's inner circle. But Mueller's interest might be piqued further since learning about Trump's alleged firing order.
Ty Cobb, one of the individuals who manages the White House's relationship with Mueller, told The New York Times that the White House declined to comment on the report. "We decline to comment out of respect for the Office of the Special Counsel and its process," Cobb told the Times.
The report comes after President Trump said he was willing to be interviewed by Mueller.
On Jan. 24 Trump told reporters that he is "looking forward" to sitting down and speaking with Mueller and hopes to do it "as soon as possible." Leading up to the possible Mueller-Trump interview, Republicans have been attacking the senior counsel on how exactly he'll treat Trump during the interview. However, Trump assured his party that he's confident Mueller will treat him fairly.
"No, it doesn't bother me because I hope that he's going to be fair," Trump said. "I think that he's going to be fair."
Reminiscent of something of an intense soap opera, the Trump vs. Mueller plot has been plaguing media channels for months. Once questions involving Russia's involvement with the 2016 presidential election started bubbling to the surface, Trump has been under fire from both media and the public alike about the possibility of collusion between members of his presidential campaign and Russian interests. Trump as responded numerous times to the investigation, referring to it as a "witch hunt."
On Jan. 10, Trump tweeted,
The single greatest Witch Hunt in American history continues. There was no collusion, everybody including the Dems knows there was no collusion, & yet on and on it goes. Russia & the world is laughing at the stupidity they are witnessing. Republicans should finally take control!
The drama continues. It remains to be seen where it will take us next.