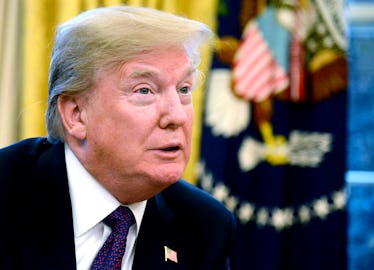 Twitter Clapped Back At Donald Trump's Question To The FBI Director & It's Amazing
Pool/Getty Images News/Getty Images
Donald Trump has once again aroused the wrath of the Twitterverse. Since The Washington Post reported on Jan. 23 that Donald Trump inquired about senior FBI official Andrew McCabe's 2016 presidential vote, the White House has once again faced immense backlash. However, during a press briefing on Jan. 24, White House Press Secretary Sarah Huckabee Sanders pooh-poohed this report by stating that "no one cares" about Donald Trump's inquiry, but tweets about "One Who Does," roasting the White House, prove otherwise. 'Tis nothing like a Twitter user scorned.
On Tuesday The Washington Post reported that Trump invited McCabe, who was then the acting FBI director, to the White House in May 2017 following Trump's firing of former FBI chief James Comey earlier that month. According to U.S officials, Trump allegedly asked McCabe about who he voted for during the 2016 presidential election during a supposed casual conversation. McCabe reportedly told Trump that he did not vote. Since news broke about the conversation, Trump claims he "doesn't recall" asking McCabe that question, according to the Associated Press.
Sanders decided to address about Trump's alleged question during a press briefing on Jan. 24, boldly stating her wariness that anyone "cares" about the conversation between Trump and McCabe.
She said,
"I very seriously doubt that any person in America would list that as an issue they care about," Sanders said. "And frankly that's what we're focused on."
Well, think again.
On Jan. 24 the viral hashtag #OneWhoDoes surfaced as a response to Sanders' statement. Twitter users voiced their reactions to Trump allegedly asking about McCabe's vote, particularly that they do in fact care as to if the president would cross such a line.
The hashtag has since spread across wide Twitter channels, and has drawn attention from the likes of television personality Andy Richter to politician Preet Bharara, to everyday politically driven individuals just wishing to see change happen.
And just as expected, the tweets are amazing.
McCabe himself might be too. A former U.S. official allegedly told the Post that McCabe found the conversation with Trump "disturbing." Despite McCabe being one of the top candidates on Trump's list of possible replacements for Comey, Trump eventually decided on Christopher Wray to take the position. McCabe currently serves as Deputy Director of the FBI, but has received immense criticism from Republicans concerning his handling of the probe concerning Hillary Clinton's private email server as well as the Russian election investigation.
However, Axios reported on Jan. 23 that Wray threatened to resign from his position as FBI director following pressures from Attorney General Jeff Sessions to remove McCabe as Deputy Director. If Wray were to resign, this would be the second departure of an FBI director under the Trump Administration. However, to quell speculation, White House Principal Deputy Press Secretary Raj Shah assured the public that Trump still has nothing but respect for Wray and his team.
On Jan. 23, Shah said,
As we've said, the president has enormous respect for the thousands of rank and file FBI agents who make up the world's most professional and talented law enforcement agency. He believes politically-motivated senior leaders including former Director Comey and others he empowered have tainted the agency's reputation for unbiased pursuit of justice. The president appointed Chris Wray because he is a man of true character and integrity and the right choice to clean up the misconduct at the highest levels of the FBI and give the rank and file confidence in their leadership
While this conversation has launched immense reaction from social media and press outlets, it's even reportedly caught the attention of special counsel Robert Mueller. Bad news for Trump, since Mueller has openly expressed his willingness to sit down with the president for a in-depth discussion concerning the Russian investigation. As of Jan. 24, Trump told reporters that he is "looking forward" to sitting down and speaking with Mueller and wants to do it "as soon as possible."
Talk about a sudden turn of events.
Sanders may believe "no one cares" about all that's going on within the White House, but rest assured social media users will always stand up and let their voices be heard.