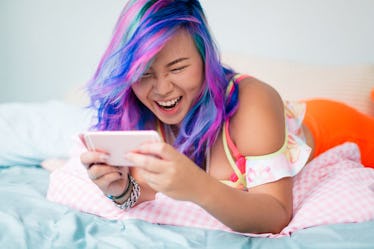 9 Super Specific Relationship Statuses That Describe Your Life To A Tee
Let's take a trip down memory lane. Remember when Facebook relationship statuses were a crucial component of defining your love life? More importantly, remember the infamous "it's complicated" option? Many of us may have selected the status ironically (or passive-aggressively), but the reality is, that simple phrase perfectly describes the modern day dating landscape. The relationship statuses that describe your life are no longer simple by any means — because these days, there are far more gray areas and intricacies to consider. You could be dating someone, but not with the understanding that you're exclusive, for example. Or, you could be exclusive in terms of your sex life, but not into using labels. And just because you agreed to be hookup buddies doesn't mean you aren't secretly hoping for something more.
The truth is, relationships have always been complicated — even before social media, mobile devices, and shifting societal norms came into play. The difference is that now, we've embraced these complexities. Whereas when our parents (and their parents) were dating, the typical trajectory was to pursue one person and nurture that relationship for life, it's now more common to accept and explore other options. You may choose to pursue a connection with one person because they fulfill your sexual needs, and still be drawn into another relationship because they provide emotional support.
The bottom line is, "single" or "in a relationship" probably isn't going to cut it for describing your love life these days. So, without further ado, here are just a few super specific statuses that may ring a bell.