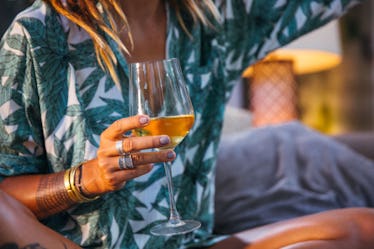 9 Real Struggles Only Wine Drinkers Knows To Be True
What is life without a little bit of wine? If you're 21 or over, then you may have sipped a few different flavors by now and understand the beauty of a bold red. You've found your favorites, and seek them out in every liquor store. One day, you'll try something new (Pinky promise!) But for now, you can't help but grab the labels you love, every single time. You've fallen head over heels for moscato, and are a firm believer that everything happens for a riesling. Let's be honest: The struggles of drinking wine are very real, but they won't keep you from pouring a glass and clinking to the weekend.
You've stained your white shirts, and gone an entire Wednesday without a sip of wine. Life comes with a lot of curveballs, especially when you're a 20-something. But, you never expected your brand to be completely sold out. Maybe you can't find your wine opener, or the cork fell into the bottle. Should I keep going, or are you cringing already?
Yes, your relationship with wine has been one for the books. Over the years, you've learned to stop and smell every rosé, even if it's not your favorite. You decided that running out of wine is in fact a form of cardio, and always ask yourself, "Wine not?" These nine struggles are too true for you. It's not always as perfect as a glass of pink wine.