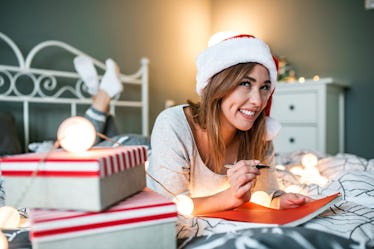 9 Punny Christmas Cards That'll Help You Sleigh The Holiday Season In Style
by Caroline Burke and Alexa Mellardo
blackCAT/E+/Getty Images
It's that holly jolly time of year that makes you feel like a kid again. From placing beautifully wrapped presents under the tree, to enjoying the sweet aroma of chocolate mint crinkle cookies baking in the oven, you're ready to grab your Santa hat and sleigh all the holiday traditions you know and love. This year, you might not be home with your family to celebrate Christmas due to the ongoing coronavirus pandemic, but wherever you're ringing in the holidays, you can still send your loved ones punny Christmas cards that'll make them instantly smile.
Whether they're e-cards, printables, or good ol' fashioned snail mail, finding funny cards to celebrate one of the oldest traditions in the book is fun for everyone involved. If you didn't send out Christmas cards yet this year, there's still lots of time to send a digital one or even print out cards you can surprise your housemates with on Christmas morning. The Centers for Disease Control and Prevention (CDC) suggests staying safe at home with your immediate household for the holidays and avoiding travel. So, making a punny Christmas card is a fun activity you can do right at home on the holiday. What better time for your friends and family to receive a personal message?
Of course, humor is in the eye of the beholder, which is why you should tailor your punny holiday card search based on who you're sending it to. Here are some really punny holiday cards for all of the different people in your life.
This article was originally published on