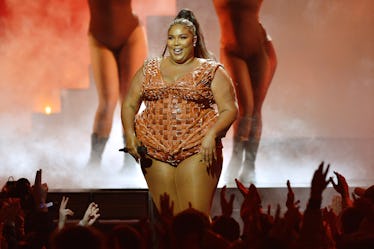 9 Celebrity Quotes About Slut-Shaming That Remind You To Keep Doing You
Jim Dyson/Redferns/Getty Images
Society's attitude toward sex may be evolving, but many people still have a long way to go. This is obvious whenever a woman confidently takes control of her sexuality and gets judged for it on the internet and social media. The following celebrity quotes about slut-shaming show that while no one is immune to hate, everyone has the power to loudly and unapologetically stick up for themselves.
Reading these quotes and recalling these sexual "scandals" makes it clear that anything is game for haters and trolls. If your jeans are tight and your top shows cleavage, folks are quick to criticize. If you didn't remain celibate for an arbitrary amount of time after your breakup, people are quick to judge. Twerking and empowering your fans to own their sexuality? Haters, triggered! Whatever way you slice it, women are constantly getting hate for owning their bodies and loving themselves, and that's unacceptable.
The following famous ladies wasted no time clapping back sharply when faced with haters policing their sexuality, or that of other women and girls they empathized with. Prepare to stan all your favorite actresses, female musicians, and TV personalities even harder — here are nine iconic celebrity quotes on how slut-shaming is utter B.S.