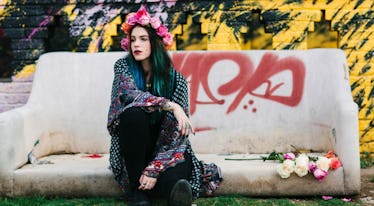 9 Brutally Honest Phases Of Being Single Again That Will Make You Say, "LOL Same"
No matter how many people you've dated or how long or short your relationships have been, mostly everyone who's been in a relationship at some point has experienced all of the various phases of being single again after a breakup. (And if you're lucky enough to have found your person on the first try without ever experiencing heartbreak, just know that I'm both happy for you and so, so jealous.)
While every breakup is different and everyone takes a different amount of time to move on, coming to terms with being single again after a relationship — and learning to love it eventually — is a pretty universal experience. Personally, I've had multiple-year-long relationships end and bounced right back, and I've had month-long relationships end leaving me to pick up the pieces of my broken heart for quite some time afterwards. But the process of getting back into the swing of things has always been the same, even if it took me longer after some breakups than others.
From those times when dating and heartache are all you can think about to the moment it doesn't even remotely weigh heavy on your mind anymore (and all the little moments in between), here are all the phases of being single again that you'll probably relate to at some point in your dating life.