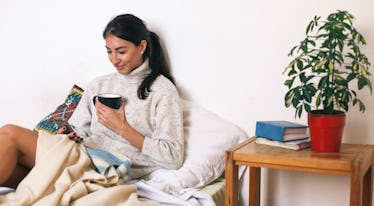 These 11 Phases Of Being Single & Swiping Are So Relatable, You'll LOL
Despite the way movies make it seem, falling in love isn't always easy. There's no magic wishing dust that can fast forward you to the part of your life when you get to marry your perfect match like Jennifer Garner in 13 Going on 30. What you do have, however, are a plethora of apps designed specifically to help you find a new relationship. The thing is, if you choose to go the digital dating route, you're also choosing to go through all the phases of being single and swiping on dating apps — the good, the bad, and everything in between. The journey to the right relationship might be stressful (and perhaps a little boring if you're not a huge fan of dating), but in the end, it's worth it.
From the initial hope you feel when you've just signed up, through the rocky road of being ghosted and going on too many not-so-stellar dates, all the way to the part where you luck out and find a new partner to fall in love with, here are all the stages you'll go through when you leave your dating fate up to your smartphone. Eventually you'll turn a URL connection into an IRL one, but in the meantime, you're just going to have to be patient.