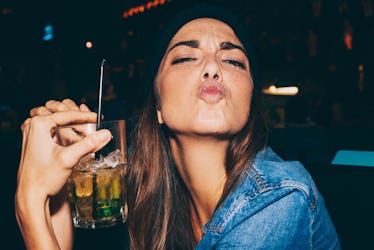 5 Brutally Honest Phases Of Putting Yourself Back Out There After A Breakup
In the theme of brutal honesty, let me be totally frank: I have only had one major breakup in my life. Though I've technically broken up with three different fellows, there was just one ex who left me, and my heart, in pieces. And so, I learned early on about the brutally honest phases of putting yourself out there after a breakup (and I've basically just been cycling through phases three to five ever since).
I mean, jumping back into the dating world is never easy. But there's something particularly challenging about learning to walk that "single and ready to mingle" tightrope for the very first time, especially after an emotional or dramatic breakup. (My own involved cheating and a series of passive-aggressive Facebook posts. It was a whole ordeal.)
But don't worry. As tricky as it may be, you can (and will!) totally get back out there in due time. And, if you're anything like me, you might need the help of some late '90s and early '00s rom-coms and Shania Twain songs to get you through.
Here's a look at the five brutally honest stages of putting yourself out there post break-up — from wallowing to body pillows and beyond.