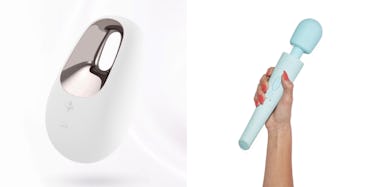 9 Vibrators for Beginners That'll Buzz You To The Finish Line
Satisfyer / Unbound
If you're on the hunt for the best vibrators for beginners, scrolling through online retailers or strolling through sex-shop aisles can be a little overwhelming. Vibrators come in all shapes, sizes, and textures, and with all kinds of speed settings and functions to choose from, where does one even begin? Well, when it comes to the best starter vibes, stress no further. Below, a list of nine to help you narrow down the search. The following vibrators are straightforward, easy, run the price gamut from bougie to about $10, and work with all kinds of anatomy.
These vibrators can also work in both solo sex, and sex with other people. Using a vibe during partnered sex can help you and your partner(s) multitask during oral, anal, or vaginal sex. And if you're getting off by yourself, buying a vibrator can change your life, beyond just an earth-shattering orgasm.
As sexologist, author, and podcast host Dr. Jess O'Reilly previously told Elite Daily, "Masturbating is the best way to get to know your body." It can boost your self-esteem and create a positive connection to your body. It's also beneficial, O'Reilly explained, because people who masturbate "may report higher levels of orgasmic response during intercourse and greater sexual satisfaction." Why? Because masturbating can give you a good idea of what you like in bed, and can help you better direct your partner(s) to perform those techniques on you.
If all those aren't sufficiently compelling reasons to look into your first vibrator, I don't know what to tell you. Here are nine great places to start.