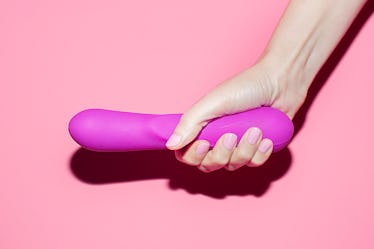 5 Vibrators For Beginners That Are Easy To Use & Will Completely Rock Your World
Something you don't learn in sex ed. is how to please yourself. In fact, I don't think I've ever heard from a single person whose sex ed. lecture had anything to do with sexual pleasure. That's too bad because it'd be nice to end the class on a high note after being scared out of your mind that you would die from having pre-marital sex. It seems to me that an obvious solution to this problem would actually be vibrators for beginners. All of the rewards, none of the risks.
I'm not just talking about health risks, either. You probably have a better shot at pleasing yourself in bed than a partner does because you already know exactly what you like. And if you don't, well, that's what these guys are here for — the vibrators, I mean.
I've hand-picked the best vibrators for beginners — for the Anastasia Steele we meet in the first Fifty Shades movie, not the Red Room enthusiast she becomes in Fifty Shades Freed — that'll help you get in touch with yourself, literally. I know from experience that your first vibrator is ideally user-friendly, discreet, cute, and non-threatening. And hey, bonus points for water-resistant materials so you can take your new toy into the shower with you if you're feeling shy.
There's absolutely nothing embarrassing about taking matters into your own hands; you might even get a confidence boost out of it. Don't believe me? Put one of these vibrators to the test.