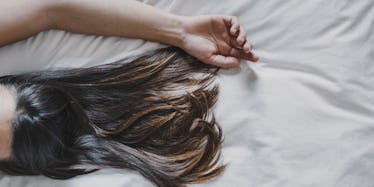 Feeling Myself: A Definitive Ranking Of The Best Vibrators On The Market
Micky Wiswedel
If we had to rate the most important parts of our day, a daily dose of self-love is up in the top three -- smothered somewhere between breakfast and happy hour. A little flicking of the bean is important not just for stress relief, but to get all those (literal) juices flowing. Plus, you're bound to be pumped up and ready for action after just a few minutes of solo play.
If you feel like any more time spent with yourself will give you carpal tunnel, your best bet is to invest in a vibrator. No, not the kind you were given as a gag gift by your best friend for your sweet sixteen — a full-grown, adult-lady vibe. You gotta do Samantha Jones (and Nicki Minaj) proud.
Womanizer Pro, $199, Amazon
If you don't have someone readily available to go downtown on you, this will take care of that.
"This is our latest and greatest vibrator and it's getting 5 star reviews from staff (a discerning group) and customers alike," Claire Cavanah, co-founder of Babeland and co-author of "Moregasm: Babeland's Guide to Mind-Blowing Sex," said. "The Womanizer offers a sucking sensation along with vibration for the clitoris and it feels amazing."
We couldn't agree more — even if this bad boy looks a bit like a Clarisonic.
We Vibe 4 Plus, $90, Amazon
This vibe is proof you don't need to head to your nearest bar to get a guest of honor for a threesome with your boo.
Cavanah explained,
This is our number one bestselling couple's vibrator and with every innovation, it just keeps getting better. Wear it during sex, use it as a dual-action vibrator or keep connected with your lover when they're away.
You read that right. This bad boy has an app, so you can control it from anywhere (even if your BAE is away.)
Magic Wand, $58, Amazon
This guy is basically the grandparent of all modern vibrators — and that's not a bad thing. There's a reason it's still one of the most popular vibes today — it's a total classic.
And it's now cordless, so no need to keep your self-lovin' confined to four walls.
Iroha Mini Vibrator, $25, Amazon
This cutie is a perfect starter vibe — it's compact, colorful and affordable. Keep this guy on you at all times — if you're working late and need a little extra motivation, sneak this guy into the office bathroom.
Lovelife Cuddle Vibrator, $67, Amazon
Finding your G-spot can become a bit of a treasure hunt. This bad boy gets right up in there — no guesswork necessary.
If you're not much of a G-spot kinda gal, use it externally for a bit of "oh, wow!"
PicoBong Kaya Rabbit Vibe, $69, Amazon
If it's good enough for the babes of Sex and the City, it's good enough for us and our va-jay-jays.
Savannah put it best,
They reach all the most sensitive parts at the same time and there is nothing better.
Excuse us, we're going to spend this weekend in bed.
Affordable? Check. Portable? Check. Feel-good? Double check.
When you purchase this bullet, ten percent goes straight to Lady Parts Justice.
Use it as a side attraction alongside your main vibe (or your main squeeze) for some seriously powerful orgasms.
Jimmyjane Form 2, $77, Amazon
Introducing your new BFF. The ears are flexible and the vibe has customizable settings, perfect for fluttering away at your most sensitive spots. Also important: This thing doesn't look like a vibe, so you can keep it on top of a nightstand, guilt-free.
Kandi Kisses, $69, Bedroom Kandi
No one will ever even suspect you of stashing a vibe in your night-out clutch.
"Just be careful when your friend asks to borrow your lipstick," Cavanah warns.
Crave Vesper, $69, Amazon
This just might be the prettiest vibrator — oh, wait, you thought this was a necklace? Rock this with a V-neck tee, a leather miniskirt and some mind-blowing orgasms.
To be fair, we had to deduct some points for the likelihood of a friend stealing it and wearing it on a date (and not knowing any better, until the thing starts buzzing on her collarbone.)
OhMiBod blueMotion Remote Vibrator, $80, Amazon
You might not be able to get in bed with Drake (unless you're RiRi or Zoe Kravitz) but this is almost as good. This vibe buzzes along to your music, so you can really start at the bottom.
One drawback? While Drake, Lenny Kravitz and Adam Levine will definitely get your heart racing, the likelihood of Carly Rae Jepsen or the Frozen soundtrack coming up on shuffle is bound to be a lady boner-killer.