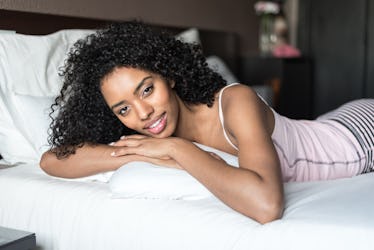 These Quiet Vibrators Are Perfect For People With Roommates
Unless you live alone, or your bedroom is completely soundproof, the fear of waking up your roommate with the sounds of your vibrator is likely one you've felt before. The larger the vibe, the louder the buzz, it seems. And if you're like me, getting ready for a masturbation session involves piling as many blankets and pillows on top of myself as possible in order to muffle the sound. But it doesn't have to be this way! If you buy one of the best quiet vibrators on the market, you can get yourself off without worrying about waking anyone up.
The one thing to note about quiet vibrators is that they tend to be a little less powerful than vibrators that make a lot of noise. That's to be expected, though, because smaller motors are a lot quieter. But that doesn't mean these vibes can't still rock your world. They just draw out the big-O, which can be quite satisfying in certain situations.
Aside from the longer lead time, quieter vibrators are also great for travel — especially if you're visiting mom and dad's house. All of the vibrators on this list are portable and easy to pack, so you can take your O on the road.
Ahead, find the best quiet vibrators you can buy on Amazon.