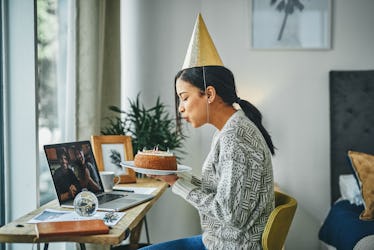 These Virtual Birthday Party Ideas Really Take The Cake
Charday Penn/E+/Getty Images
There's nothing you can't do with a little bit of WiFi, and that includes ringing in your birthday. You can grab your laptop, put on your go-to party dress and hat, and blow out your candles with your BFFs who are safely tuning in from their homes. After opening up gifts from your friends that were sent to your front door, you can spruce up the festivities with these virtual birthday party ideas for adults.
Although you may feel tempted to gather with your people in person, it's safest to celebrate virtually due to the ongoing pandemic. The guidelines from the Centers for Disease Control and Prevention (CDC) note that avoiding close contact with people who don't live in your household is essential to keeping you and the ones you love safe.
You want your birthday to shine no matter how you're celebrating, and that's where these virtual party ideas come in handy. They'll make sure your party is anything but boring by allowing your friends to play games, spill the tea, and have tons of laughs. To make your virtual birthday party the best it can be, send your friends an itinerary in advance, along with any information they need to participate like a link to a ticket or a code for visiting your island in Animal Crossing. The birthday fun awaits.
We only include products that have been independently selected by Elite Daily's editorial team. However, we may receive a portion of sales if you purchase a product through a link in this article.