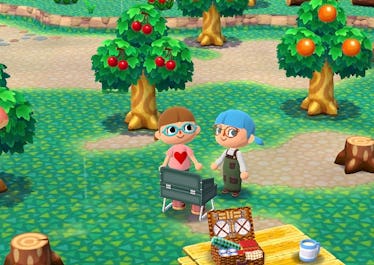 8 Fun Things You Can Do On Your 'Animal Crossing' Island With Your Bestie
When Animal Crossing: New Horizons first came out, you were probably jumping around your apartment with joy. The video game featuring tons of adorable animals you can befriend was highly anticipated. Now that you've hung out with your favorite villagers and are a total pro at selling turnips, you're in need of some things to do on your Animal Crossing island with a BFF.
As much as you may love Beau, Goldie, or K.K. Slider, you adore chilling with your real-life besties in your virtual world the most. Showing them around your harmonious garden or your strip of shops gives you a sense of pride and joy. You'll occasionally hop on a plane courtesy of Orville at Dodo Airlines, to visit their islands, too, and see what they've been up to over the past few days. Together, you may run around with your nets to catch butterflies or collect bells that are sneakily hiding in the trees.
But, if we're being honest, your Animal Crossing bucket list could use a few new additions. Enter, these eight things to do in the game with one of your BFFs. Try them out the next time you're playing with a friend to spice up your gameplay and collect some good vibes in your inventory.